Walter Calahan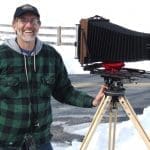 Walter Calahan's photographic career has taken him under the Atlantic Ocean aboard a US Navy Trident Submarine, down lava tube caves in Idaho, into surgical clinics for Afghan refugees in Pashawar, Pakistan, canoeing the Okefenokee Swamp of Georgia and the great northern woods of Canada, being launched off the deck of a US Navy Aircraft Carrier, to children learning to tap dance, as well as the tumult of the Romanian Revolution.
Hundreds of magazines have used his work, including the National Geographic Society, Time, Fortune, Smithsonian, Rolling Stone and Vanity Fair. General Electric, Yamaha, The Washington Performing Art Society, Hillel Foundation, and Harvard Business School have asked him to illustrate their publications and advertisements.
As an adjunct instructor, he teaches photography for Stevenson University and McDaniel College's art departments, insuring a love for photography in the next generation of image makers.
Walter graduated with honors from Syracuse University's Newhouse School of Public Communications, and earned a Master of Liberal Arts degree from McDaniel College.
He lives outside of Westminster, Maryland with his sculptor wife, Donna McCullough, and lots of critters, some with hooves, others whiskers or wagging tails, and a flock of egg makers.
Call Digital Photo Academy at 1 877 372 2231. Lots of people seem to hang up if our welcome recording comes on instead of a live voice, but we promise to return your message within a day or two if you leave one with your name and number. It would be even better if you included your e mail address as well as the date and city of the class you are considering. If leaving a voice mail message is not your thing, please email us at DPAbooking@digitalphotoacademy.com or Richard@digitalphotoacademy.com.
[pix_slideshow data_slideshow='walt-calahan']