Vincent Nobel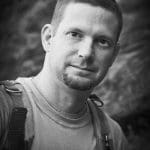 Vincent Nobel is a fine art nature photographer based in Columbus, OH. He spends many hours and days traveling Ohio and beyond seeking the beauty of nature in all its forms. Some of his favorite local locations include Hocking Hills, Yellow Springs, Columbus Metro Parks, and Cuyahoga Valley National Park. Vincent's passion for photography started many years ago when he worked as a landscape designer. This formal design training combined with his new interest in photography allowed him to create images that inspired him to explore the wild areas of Ohio and beyond.
Capturing nature's unique combinations of shape, form, texture, color, and light continues to fuel his passion and desire to hone his craft as a photographer. He spends several days a year instructing beginning photographers through small group and personal workshops around Central Ohio. He is also an adjunct instructor at Columbus State Community College teaching photography courses in the Integrated Media and Technology Department.
Equipment – Although creative vision is of utmost importance, you must have the right tools for your particular style. Dependability, functionality and overall image quality is what he looks for when purchasing equipment. Cameras he currently uses are the Nikon D750 and Fuji X-T1. A wide range of Nikkon and Fuji lenses allow me to obtain sharp images with beautiful color and clarity. Feisol tripods, Acratech ball heads and Kirk support plates offer rock solid stability without any compromises. He prefers the rugged quality and design of F-Stop camera packs for keeping equipment safe and secure. Post processing is accomplished with his MacBook Pro, Adobe Lightroom CC, Photoshop CC, Nik Software, and many long hours meticulously crafting his photographs.
Call Digital Photo Academy at 1 877 372 2231. Lots of people seem to hang up if our welcome recording comes on instead of a live voice, but we promise to return your message within a day or two if you leave one with your name and number. It would be even better if you included your e mail address as well as the date and city of the class you are considering. If leaving a voice mail message is not your thing, please email us at DPAbooking@digitalphotoacademy.com or Richard@digitalphotoacademy.com.
[pix_slideshow data_slideshow='vincent-nobel']