Vincent Knaus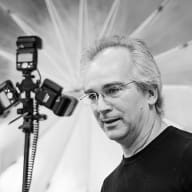 Vincent Knaus started teaching photography in 1982 as a photolab instructor at the S.H.A.P.E. Arts and Craft Center Photolab, S.H.A.P.E. Belgium. He taught black and white film processing, black and white printing, color printing and studio lighting. While at S.H.A.P.E. he also worked as a teacher's assistant (photography) for Big Bend Community College S.H.A.P.E. extension. He graduated from the College of Fine Arts at the University of South Florida in December of 1987 with a BA in Studio Art/Photography. He worked as a photographer's assistant for the next five years working with numerous photographers, on a wide range of projects, on a freelance basis.
His big break came in the mist of a natural disaster. He was working as an assistant with an American Red Cross staff photographer on a nurse assistant training textbook when hurricane Andrew went through South Florida. All of the American Red Cross Staff Photographers went to Florida to cover the disaster. Vincent was given the opportunity to finish the images for that textbook. The team at the American Red Cross and the publisher, Mosby Lifeline, were so impressed with his work they offered to let him create the cover photograph for that textbook, which he did. Since then Vincent has created images for more than 25 textbooks and annual reports for organizations including the American Red Cross, American Health Care Association, United States Olympic Committee, StayWell and Mosby Lifeline. "Its a great feeling to know my work has helped to save lives." says Vincent, talking about his work with authors and publishers of EMT, First Responder, Paramedic and Lifeguard training textbooks.
He has also created images for annual reports for Regional Blood Services of the American Red Cross. His most recent projects include producing over 400 images for a series of lifeguard training textbooks and over 300 images for a babysitting textbook both for the American Red Cross. He has also worked with the American Red Cross and the United States Olympic Committee on a set of Sports Safety Training textbooks. Vincent created the majority of the images for these textbooks in various locations such as hospitals, emergency rooms, nursing homes and on ride alongs with fire departments and emergency medical personnel. "I prefer working outdoors so working around pools and at the beach with lifeguards and athletic trainers are some of my favorite projects." Vincent says.
When he is not working on assignment Vincent creates images anywhere he can find space, day or night, either in the great outdoors or in a corner of his basement. Interested in a wide variety of subjects Vincent is willing to take on any challenge. From creating image with smoke in his basement to creating images at night in the great outdoors he likes using the different skills he has acquired over the years. He is skilled at using available light, studio lighting, speedlights or a mix of all three to create his images. "I worked in a studio a lot as an assistant and I found that I wanted more variety than only shooting in a studio. I like location work because its always something new and different, always a new challenge."
Call Digital Photo Academy at 1 877 372 2231. Lots of people seem to hang up if our welcome recording comes on instead of a live voice, but we promise to return your message within a day or two if you leave one with your name and number.  It would be even better if you included your e mail address as well as the date and city of the class you are considering.  If leaving a voice mail message is not your thing, please email us at DPAbooking@digitalphotoacademy.com or Richard@digitalphotoacademy.com.
[pix_slideshow data_slideshow='vincent-knaus']