Sylvia Stagg-Giuliano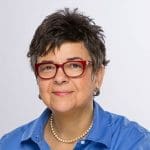 Sylvia Stagg-Giuliano is a commercial photographer and digital artist specializing in executive portraiture, commissioned fine art portraiture, and composite photo illustration. Her experience includes 11 years as a staff shooter at a Fortune 500 company, a stint as technical color lab instructor at the New England School of Photography, and a term as president of Commercial/Industrial Photographers of New England. For the first decade of her career, Sylvia applied her strong technical background to the creation of wildly surrealistic imagery using darkroom processes such as cross processing, sandwiching negatives, and sophisticated printing techniques. Later, as an early adopter of digital methods, Sylvia began employing advanced PhotoShop wizardry to realize her artistic vision.
Today, Sylvia uses digital tools in all aspects of her work, whether creating art for a gallery exhibit, or adding subtle refinements to a family or executive portrait.
She both resides and maintains a fully equipped studio in the historic Fort Point district of Boston, and is an active member of the Fort Point Arts Community.
Sylvia's work has been widely exhibited in galleries in the United States and South American. Selected prints from her series Caminata al Pasado are part of the permanent collection of the Museum of Art and Anthropology in her native Guayaquil, Ecuador.
Call Digital Photo Academy at 1 877 372 2231. Lots of people seem to hang up if our welcome recording comes on instead of a live voice, but we promise to return your message within a day or two if you leave one with your name and number.  It would be even better if you included your e mail address as well as the date and city of the class you are considering.  If leaving a voice mail message is not your thing, please email us at DPAbooking@digitalphotoacademy.com or Richard@digitalphotoacademy.com.
[pix_slideshow data_slideshow='sylvia-stagg-giuliano']