Rose Valley
[smartslider3 slider=142]
"If you believe in the bridge of desire that leads to Brigadoon and the knight who fought through thickets of thorns to rescue Briar Rose, you will be able to find Rose Valley, then and now."
– Rose Valley Museum and Historical Society
Less than a half hour from Center City, the village of Rose Valley has no town retail center, no gas stations, no sidewalks.  It appears to be nothing more than a quiet, wooded residential neighborhood, until you look more closely.  If you do, you may notice the hidden lanes and intricate pathways through woods and across streams, connecting the odd mix of grand old buildings, pretty cottages, and tightly packed row houses, some on large plots of land and some so close to the neighbors that conversations can be held through the windows.  It may be a Philadelphia suburb, but this is not your typical suburban sprawl.  Established over 100 years ago as an Arts & Crafts community through the singular vision of a renowned local architect, Rose Valley exemplifies "The Art That Is Life", the motto it adopted in rejecting the industrial practices of the time.
Picturesque does not begin to describe this place.  There is fascinating architecture in the Old Mill, Hedgerow Theatre, and the Rose Valley Museum at Thunderbird Lodge, as well as the homes in their settings, large and small.  There are lush gardens and woods, with streams meandering through them in a rolling setting.  At this time of year, the fall colors will be glorious.  Your instructor will help you build a portfolio of images of this charming setting at this beautiful time of year.  You will be creatively stimulated by these subjects while learning more about controlling image composition with camera settings and the use of ambient light to make great photos.  Perhaps you can learn good ways to capture the texture of a tree or its foliage in the woods, or how to use shutter speed with flowing water to make a velvety impressionistic image.  Your instructor will help you use ambient lighting for dramatic shots with silhouettes, back lighting, etc.  Learn to use leading lines and depth of field to make pleasing images.  No matter the season, Rose Valley is a dream location for the photographer.
A word of warning: we will be walking on some "quaint" unpaved paths, meaning a little rocky in places, maybe muddy, and a few hillsides.  Be sure and wear suitable walking/hiking shoes (no open toes).
Paula Healy, a local hero of Rose Valley, "may," be joining the group to express her passion and knowledge of this mystical locale that transports one back to a timeless era. Other Rose Valley board members may join the workshop as well, all of which will enhance the photographic experience.
We will meet at The Rose Valley Museum at Thunderbird Lodge (free parking); a half-mile from the Moylan-Rose Valley train station – a 10 min. walk along a busy road.
41 Rose Valley Rd, Rose Valley, PA 19063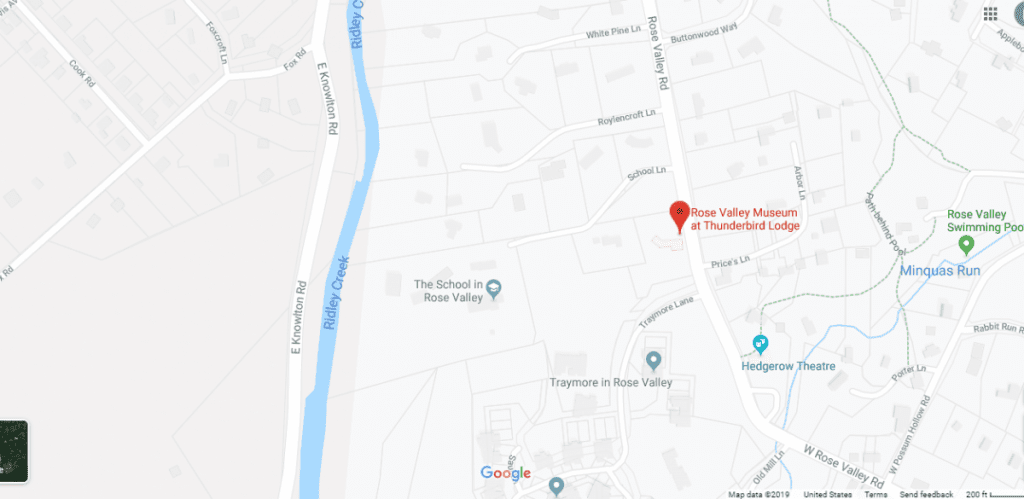 Call Digital Photo Academy at 1 877 372 2231. Lots of people seem to hang up if our welcome recording comes on instead of a live voice, but we promise to return your message within a day or two if you leave one with your name and number.  It would be even better if you included your e mail address as well as the date and city of the class you are considering.  If leaving a voice mail message is not your thing, please email us at DPAbooking@digitalphotoacademy.com.