Peirce Mill
[smartslider3 slider=73]
ASK ABOUT OUR BACK-TO-BACK SAME DAY WORKSHOP OFFER STARTING WITH A SIT-DOWN SESSION FOLLOWED BY A 3-HOUR DEMONSTRATION PHOTO SHOOT, LED BY A PROFESSIONAL PHOTOGRAPHER 
And in case you're interested, click here to check out some FREE SAMPLES of our ONLINE CLASSES
Your workshop falls on the iconic 4th of July holiday, so your lesson will include tips and techniques accordingly. Since tonight you might be attending a July 4th fireworks display shortly, your instructor will be giving tips on capturing fireworks displays in a compelling manner, whether long exposure, shutter speed priority and other techniques!
This old world historical site offers a photographer everything from shutter speed priority exercises at the site of the waterfall remains from any of 3 pairs of millstones. Take a close up perspective of velvety smooth flow of the water or a stop action showing the water in a stop action split second depiction. Your instructor will work with you to capture all gradations of various stages of water movement and then go wider to create a tranquil waterscape framed by leafy trees and winding pathways.
Move to the old stone buildings and transport the viewer of your images to 150 years past, detailing the exteriors. Venture inside and get close up shots of tools and equipment as it was once made to last versus the built in obsolesce of products in the market place in contemporary times. The natural lighting on the brass tools and machinery make for lovely still life photos. Even the patterns of soft sunlight coming in from the windows are worth attention with your camera.
The Peirce Mill is a historic mill building located in Rock Creek Park, at Tilden Street and Beach Drive, North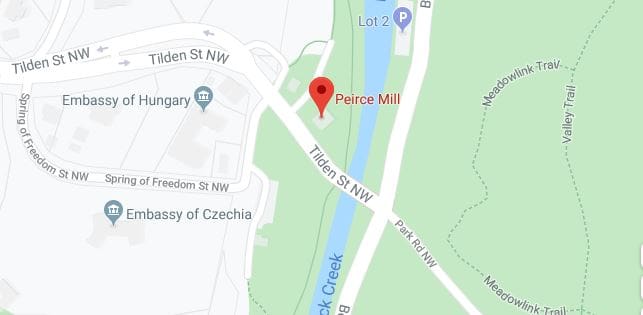 Call Digital Photo Academy at 1 877 372 2231. Lots of people seem to hang up if our welcome recording comes on instead of a live voice, but we promise to return your message within a day or two if you leave one with your name and number.  It would be even better if you included your e mail address as well as the date and city of the class you are considering.  If leaving a voice mail message is not your thing, please email us at DPAbooking@digitalphotoacademy.com.