Michael Pecorino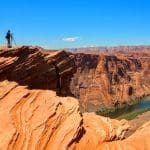 From the age of 10 Michael took his camera everywhere. With only the instructions from the film box he learned from his mistakes, fine tuning his images to match his "inner vision". Growing up in the rolling foothills of Upstate New York was the perfect place for Michael to hone his nature and landscape photography skills. While still in high school Michael was creating and selling his own postcards and note cards.
In 1979 Michael moved to South Florida, immediately getting a job at a photo lab in Ft. Lauderdale….For the next couple years he apprenticed with famous star and screen photographer Zinn Arthur. Learning lighting, portraiture, and wedding photography, as well as custom printing and darkroom techniques.
"By the time I was in South Florida, I already had a good job and was selling my photography services and getting published." "I always liked the idea of apprenticing one on one and attending workshops to get the info quick, down and dirty by pros who already were at the top of their game."
To further his self imposed education, Michael has also studied with the top echelon of award winning photographers such as Ed Pierce, Portrait specialist Marty Rickard, Playboy photographer Arny Freytag and Ken Marcus just to name a few. For the next ten years or so Michael worked with all the major modeling agencies in Ft. Lauderdale and Miamii.  Like Wilhelmina, Barbizon, Marie Clair, and Elite. They would often send their models to him for headshots, comps and portfolio work.
It was at this time Michael also started shooting for various corporate clients such as Lancôme, Estee Lauder, AT&T and many local businesses as well. It was the perfect symbiotic relationship for photographer, agencies, models and corporate clients.
'Thinking on my feet and solving lighting problems on the fly became second nature." "There wasn't a shoot that I didn't feel comfortable doing." "The steady corporate work was good, paid the bills and then some, I had a camera in my hand everyday, yet in my free time I always went back to nature."
After getting married he wanted  to work less and travel more, he began taking long vacations to exotic places like Budapest, Egypt, and The Bahamas, rafting down the Colorado River in the Grand Canyon, Hiking Bryce Canyon, Sedona, Mt. Shasta, Vermont, and North Carolina. It was at this time Michael's passion for the nature and landscape photography was rekindled with renewed vigor and fresh eyes.
He began to amass a large library of photographic art from all over the world. A sampling of his work can be seen at www.artistimage.net.
Now living in Hollywood, Fl., Michael splits his time between freelancing and selling to galleries, stock houses and through various art sites. As well as writing and submitting photo articles and content to various websites and magazines. Michael also teaches classes for after school kids and leads workshops in hopes of passing along his insights and passion for this incredible creative art.
Call Digital Photo Academy at 1 877 372 2231. Lots of people seem to hang up if our welcome recording comes on instead of a live voice, but we promise to return your message within a day or two if you leave one with your name and number. It would be even better if you included your e mail address as well as the date and city of the class you are considering. If leaving a voice mail message is not your thing, please email us at DPAbooking@digitalphotoacademy.com or Richard@digitalphotoacademy.com.
[pix_slideshow data_slideshow='mike-pecorino']