Matt Lit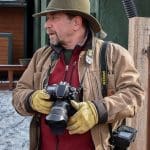 I'm a professional photographer with 40 years of shooting and 25 years of teaching photography and multimedia in higher education, private workshops and youth programs. My passion is passing along my abilities to students and watching their visual and technical growth. Many of my former students are now working professionals including one now shooting for Getty Sports! I know that most of my students are not planning professional careers and seek to improve their photography skills for personal enjoyment whether it's nature, wildlife or portraits of their loved ones.
I have a degree in Photojournalism and continue to expand my post-secondary education through higher education workshops, professional development, courses on teaching methods and Adobe certifications.
I currently teach Photojournalism at Community College of Denver, Basic Digital Photo and Multi Media courses for Colorado Mountain College's Isaacson School for New Media. My professional photography work involves mostly people, dogs and western life.
Call Digital Photo Academy at 1 877 372 2231. Lots of people seem to hang up if our welcome recording comes on instead of a live voice, but we promise to return your message within a day or two if you leave one with your name and number.  It would be even better if you included your email address as well as the date and city of the class you are considering.  If leaving a voice mail message is not your thing, please email us at DPAbooking@digitalphotoacademy.com.
[smartslider3 slider=190]