Mary Ann Glass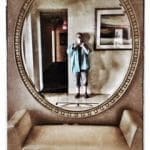 Mary Ann's work has been described as spiritual and sensual, serious and elegant. She enjoys experimenting with a wide range of medium from acrylic to watercolor, digital to infrared photography, manipulated Polaroids, solarized etching plates, encaustics, cyanotypes and other mixed media.  While Mary Ann is talented in many photography techinques, for Digital Photo Academy, she will be teaching a cell phone camera class.  All of the images in her slideshow below are taken with a cell phone.
Mary Ann is one of the owners of RiverWinds Gallery in Beacon, NY, which celebrated its 13th anniversary this year (making it the longest-running gallery in Beacon)
She grew up in a village in Ohio, attended Ohio State University and the American Graduate School of International Management and moved to Manhattan to pursue not only a career but the dream of big-city sophistication. Eventually she ended up at Chase Manhattan Bank, using her writing and editing skills to become a Vice President. After 13 years there, she took a leave of absence and attended the summer intensive program at the Rocky Mountain School of Photography in Montana. In 1999, she left her corporate job and settled in the Hudson Valley as a professional photographer.​
She has studied with such photographers as Eric Lindbloom, Dan McCormack, Joel Meyerowitz, Joyce Tenneson and Arlene Collins. Her images have been exhibited in group shows curated by Joyce Tenneson; Nat Trotman, Associate Curator, Guggenheim Museum of Art; Malcolm Daniel, Curator of Photographs, Metropolitan Museum of Art; and Steven Evans, former Managing Director of Dia:Beacon.​
She has been invited to participate in two International Artist Residencies in Myslenice, Poland, and in Beacon, NY. Her work has been chosen for shows at the New Century Gallery in Manhattan; the School of International Photography Center in NYC; the Center of Photography at Woodstock, NY; Collaborative Concepts in Beacon, NY; 721 Gallery in Kingston, NY; the 1212 Gallery in Richmond, VA; The Front Gallery in Patterson NY: The Albert Shahanian Gallery in Poughkeepsie; The Cork Gallery at Lincoln Center, and the Montauk Library Gallery. She has also had solo shows at Montgomery Row in Rhinebeck, Locust Grove, Bannerman Gallery, RiverWinds Gallery, the Amacord Gallery, Barnes & Noble and Chill. One of her photos won a Red Ribbon at the Front Gallery in Patterson, NY !
Call Digital Photo Academy at 1 877 372 2231. Lots of people seem to hang up if our welcome recording comes on instead of a live voice, but we promise to return your message within a day or two if you leave one with your name and number. It would be even better if you included your e mail address as well as the date and city of the class you are considering. If leaving a voice mail message is not your thing, please email us at DPAbooking@digitalphotoacademy.com or Richard@digitalphotoacademy.com.
[pix_slideshow data_slideshow='mary-ann-glass-two']