Lincoln Park Zoo
[pix_slideshow data_slideshow='lincoln-park-zoo']
ASK ABOUT OUR BACK-TO-BACK SAME DAY WORKSHOP OFFER STARTING WITH A SIT-DOWN SESSION FOLLOWED BY A 3-HOUR DEMONSTRATION PHOTO SHOOT, LED BY A PROFESSIONAL PHOTOGRAPHER
And in case you're interested, click here to check out some FREE SAMPLES of our ONLINE CLASSES:
MECHANICS OF A DSLR or MIRRORLESS CAMERA-A 2 hour online course with in-the-field demos, a lecture and inspirational photographs. (See free samples of this online course to decide if you would like to purchase it.)
RULES OF COMPOSITION-A 2 hour online course of lectures, in-the-field demos and inspirational photo examples, with ten different easy to learn composition strategies that elevate snap shots to compelling photographers. (See free samples of this online course to decide if you would like to purchase it.)
Sometimes it is quite a challenge to create a compelling image of animals and other attractions at a zoo. The bars, the other visitors, various debris lead to distracting elements of making the best images. Your Digital Photo Academy instructor will offer tips on playing the waiting game to get photographs that best reflect a natural habitat. There are also composition techniques and selection of lenses that result in animals in action, at rest and play in the water or on land. And at the zoo the animals are not the only attraction. Learn to capture environmental portraits of flowers and fauna as well as the vendors, other visitors and the architecture of the facility itself.
There is a public transit stop on Stockton drive immediately outside the West Main gate to the zoo.
It is very near Stockton Drive and Webster. It is easy to find and is a nice quiet place to assemble and talk before we actually start.
2001 N Clark St, Chicago, IL 60614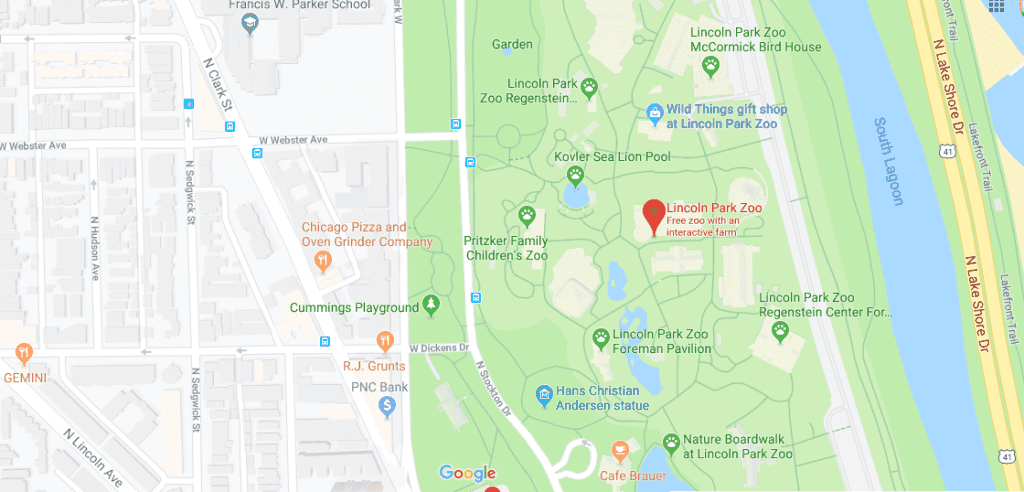 Call Digital Photo Academy at 1 877 372 2231. Lots of people seem to hang up if our welcome recording comes on instead of a live voice, but we promise to return your message within a day or two if you leave one with your name and number.  It would be even better if you included your e mail address as well as the date and city of the class you are considering.  If leaving a voice mail message is not your thing, please email us at DPAbooking@digitalphotoacademy.com or Richard@digitalphotoacademy.com.