Kari Wehrs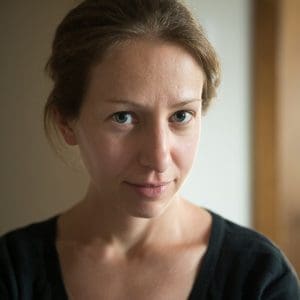 Kari Wehrs is a photographer and educator currently living in Tempe, AZ.  She attended Arizona State University for her MFA in photography and graduated in the Spring of 2018.
As a child, Kari spent hours flipping through her Grandmother's family photo albums that dated from the late 1800s to the mid 1900s.  The photographs were compiled neatly, often with handwritten notations, which suggested to her that they were precious objects.  Wanting to see the details of each image, Kari often examined the photographs with her Grandmother's magnifying glass.  She found the idea that time could be recorded and "held" in photographs to be truly fascinating.
Originally from Minnesota, Kari attended the University of Wisconsin – La Crosse for her undergraduate education, and soon after attended the Salt Institute for Documentary Studies in Portland, Maine, in the fall of 2007.  Kari has been associated with the Maine Media Workshops + College in Rockport, Maine, since 2008, and has been a workshops instructor since 2012.
Kari has a deep interest in the techniques, technology, and history of the photographic medium.  While embracing multiple methods in her own work, her most recent series is portraiture employing the 1850s wet plate collodion process (tintypes).
Call Digital Photo Academy at 1 877 372 2231. Lots of people seem to hang up if our welcome recording comes on instead of a live voice, but we promise to return your message within a day or two if you leave one with your name and number.  It would be even better if you included your email address as well as the date and city of the class you are considering.  If leaving a voice mail message is not your thing, please email us at DPAbooking@digitalphotoacademy.com.
[smartslider3 slider=196]