Josh Anon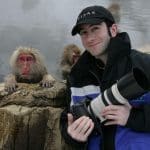 Josh Anon (San Francisco, CA, USA) has been a nature photographer for over 18 years, starting before entering high school in Erie, PA. However, his interest in photography started when he received his first Kodak 110 camera at the ripe old age of 4. Camera in hand, he received a BS in computer science from Northwestern University in Evanston, IL.
After graduating, Josh started working at Pixar Animation Studios in Emeryville, California. There, he has worked on The Incredibles, Ratatouille, Up, Toy Story 3, and more. At Pixar, he worked as Camera and Staging Artist (cinematographer), a Linux and OS X software developer, and more. In 2012, he left Pixar for Lytro, where he worked as a Senior Product Manager on projects including camera hardware and building and shipping the Lytro Mobile App. In late 2013, he left Lytro and began working on starting a feature film production company. Josh has also written a number of software programs including FlipBook for iOS, which has had millions of downloads.
Josh has traveled the globe searching for the next great picture, be it 100 feet deep on the Great Barrier reef, on a cold and windy beach in the south Atlantic, or in the Arctic Circle. His images, represented by the prestigious Jaynes Gallery, have appeared in a variety of galleries, calendars, and other publications, including The Smithsonian, The San Diego Natural History Museum, Nature's Best, Photo Media, The Kiteboarder, and more. Josh, along with his mother Ellen, is the co-author of a number of books, including See It: Photographic Composition Using Visual Intensity (Anon and Anon, Focal 2012), Aperture 3.3 Portable Genius (Anon and Anon, Wiley 2012), iPhoto for iOS (Anon and Anon, iBooks 2012) and Photoshop CS5 for Nature Photographers (Anon and Anon, Sybex 2010).
With his computer science and artistic background, Josh has a unique perspective on the digital world and frequently consults and lectures about digital imaging, including a keynote speech at the /dev/world Australian University Consortium developer conference and talks at the NECCC (New England Camera Club Council) annual meeting and BetterPhoto summit. He's written for O'Reilly's Digital Media blog, taught for BetterPhoto, and currently teaches for the Digital Photo Academy. He was a co-founder of an online e-publishing site/knowledge base for photography, DSLRU, which operated from 2010 – 2011.
When not shooting, making movies, or coding, Josh can be found kiteboarding.
Call Digital Photo Academy at 1 877 372 2231. Lots of people seem to hang up if our welcome recording comes on instead of a live voice, but we promise to return your message within a day or two if you leave one with your name and number. It would be even better if you included your e mail address as well as the date and city of the class you are considering. If leaving a voice mail message is not your thing, please email us at DPAbooking@digitalphotoacademy.com or Richard@digitalphotoacademy.com.
[pix_slideshow data_slideshow='josh-anon']