Joe Mack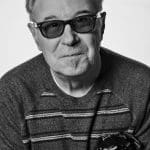 Joe has been in the Hudson Valley his entire life. Born in Newburgh, attending school there, and further education at Orange County Community College. He currently lives in Wallkill NY, where he enjoys photographing the local scenery there, specifically the Shawangunk Mountains and Wallkill River. He also loves to take day trips to New York City. Joe has worked in construction most of his adult life working at the United States Military Academy as a Construction Project Manager. He has always loved photography and had his first camera at the age of 5. It has been just in the last 4 years or so has Joe decided to take his art to the next level. He enjoys writing and did most of the interviews and wrote the bios for the Newburgh Visionaries Project for Safe Harbors of the Hudson for the exhibit at the Ritz Theater Lobby. He is going back to Italy for another photo shoot and you can find his work on Facebook or on his Viewbug page.
Facebook: https://www.facebook.com/jaci.mack (that's his wife's name, it was originally her page)
Viewbug: https://www.viewbug.com/member/Vacation_Photography
Contact Email: iwanttogotherephoto@yahoo.com
Call Digital Photo Academy at 1 877 372 2231. Lots of people seem to hang up if our welcome recording comes on instead of a live voice, but we promise to return your message within a day or two if you leave one with your name and number. It would be even better if you included your e mail address as well as the date and city of the class you are considering. If leaving a voice mail message is not your thing, please email us at DPAbooking@digitalphotoacademy.com or Richard@digitalphotoacademy.com.
[pix_slideshow data_slideshow='joe-mack']