Jeff Bishop
http://jbphotocoach.com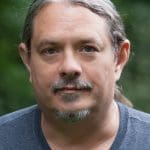 Jeff was first exposed, yes… pun intended, to photography before he graduated kindergarten by his Uncle who was a hobbyist with his own darkroom. At age twelve he bought his first SLR and his learning journey had begun. Since Jeff spent all his money on the camera, a Canonflex RP with no light meter, he had to learn to get correct exposures using only the data sheet lighting guide packaged with every roll of Kodak film of that era.
A month after starting high school, Jeff was accepted on the yearbook staff and started documenting events around the school.
That meant lots of sporting events. The yearbook editor decided to make photos Jeff shot of the school's homecoming football game available to a local weekly newspaper called Westlife. The photos were taken on a Friday evening and turned into the yearbook editor on Monday morning. Wednesday morning Westlife's editor drafted Jeff to become the paper's first staff photographer with payment of one dollar for every photo that was published.
Jeff worked for Westlife and Dodd Camera all through high school and graduated owning a Hasselblad with four lenses.
Next came college at Ohio University where Jeff was stunned to learn that for the first entire year his cameras were unwelcome and he would have to use a toy Diana F costing $ 3.25 at the school bookstore. An ad in the OU Post newspaper for a photographer rescued Jeff from the fine arts program and became his second newspaper job. Jeff quickly grew into the job with the help of the other more experienced staff members, joined the Ohio News Photographers Association and started winning monthly clip contests. Senior photographers at the Post introduced Jeff to an unpublished Photojournalism program taught by the iconic Chuck Scott. Mr. Scott accepted Jeff into his program which was to start at the beginning of the next school year. Mr. Scott advised that he would prefer if Jeff did not get the credits from his photography 101 class. Jeff cheerful obliged and flunked photo 101!
The following year, Jeff arrived at the appointed time only to learn that Mr. Scott had left to become Picture Editor at the Chicago Tribune and there was no longer a program for Photojournalism at Ohio University. After that painful quarter was over, Jeff dropped out and found work at a few small newspapers, the last being the Chronicle- Telegram in Elyria Ohio.
The Chronicle was the job, with the pay, that his older colleagues were hoping to get after graduation. It was one of the first newspapers in the country to publish color photographs. Jeff was three years ahead of schedule. He shot color Sundaymagazine layouts, sports, feature and spot news photos. This was 1975 and Jeff loved Rock music. He approached the Sunday editor and pitched a weekly "Rock Column" where he and a reporter would get press credentials to cover concerts to be published each Sunday.
Jeff got to attend some great shows for free and now has a huge body of work including the likes of Paul McCartney, Pink Floyd, Heart and about 60 more. Then one Day Del Donahoo from TV3 in cleveland came out to Midway Mall in Elyria to do a feature on Lion Taming. It didn't go to well. Del was mauled. All in all, he was not physically hurt that badly. TV3 news execs deemed their own film to be too bloody and didn't broadcast it. Jeff was there and shot only seven frames. He was known for shooting a roll of 36 on a ribbon cutting. Jeff's photos ran in 1700 newspapers around the world. Page one in New Delhi and Moscow. Jeff was nominated for a Pulitzer Prize by the C-T's managing editor and won many other spot news awards. Then the hate mail started. Some people wanted Del and Jeff put to death and the lion freed.
Jeff ultimately decided that there was a lot more to photography than the skills used by 70's era photojournalists.
He went commercial. He opened his own commercial studio and learned to light. The studio grew to 8000 square feet and served many national clients such as Parker Hannifin, Eaton and Invacare, shooting only medium format and 4×5 view cameras.
Eventually the Cleveland commercial scene crashed and burned and after the digital revolution, Jeff shot weddings and worked part time at American Greetings. He also taught photography at Virginia Marti and the Brecksville center for the Arts.
Jeff now leads workshops for the Digital Photo Academy out of New York and shoots Real Estate, Architectural and portrait photography.
Call Digital Photo Academy at 1 877 372 2231. Lots of people seem to hang up if our welcome recording comes on instead of a live voice, but we promise to return your message within a day or two if you leave one with your name and number. It would be even better if you included your e mail address as well as the date and city of the class you are considering. If leaving a voice mail message is not your thing, please email us at DPAbooking@digitalphotoacademy.com or Richard@digitalphotoacademy.com.
[pix_slideshow data_slideshow='jeffrey-bishop']