Jeannie Liautaud Maul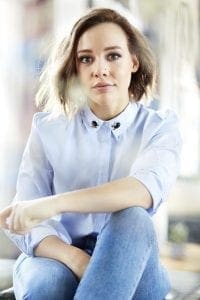 Jeannie Liautaud Maul is a commercial lifestyle and portrait photographer based in the Central Midwest. Born and raised in the Northern suburbs of Chicago, Jeannie found her love of interacting with others through photography in 2010. The unique point of connection between a photographer and her subject ignited a passion in Jeannie that perpetually grows. Jeannie went on to pursue a Bachelor's degree in Photography at Webster University where she spent a semester abroad in Thailand and received the title of "Best in Show" in her senior thesis exhibition.
Since graduating in 2016, Jeannie has worked as a freelance commercial and retail photographer in the St. Louis area. She has also worked extensively as a photo assistant and "digital tech" for other photographers in the area. Jeannie had her first solo exhibition in the spring of 2017 at The Dark Room, where she displayed highlights from a three-year-long personal project creating environmental portraits of grandparents in their homes.
Whether Jeannie is photographing a wedding, family, corporate event, acting headshot, small business, or an ad campaign, she focuses on the personal interactions with her subjects in every situation. She relies on her laid-back, open-minded nature to create honest and beautiful slices of life to capture during her shoots. Some notable clients of hers include Girl Scouts of Eastern Missouri, Washington University, Famous Footwear, and Shock City Studios. Jeannie resides in the Tower Grove South neighborhood with her husband Sam and dog Jeffrey.
Call Digital Photo Academy at 1 877 372 2231. Lots of people seem to hang up if our welcome recording comes on instead of a live voice, but we promise to return your message within a day or two if you leave one with your name and number.  It would be even better if you included your email address as well as the date and city of the class you are considering.  If leaving a voice mail message is not your thing, please email us at DPAbooking@digitalphotoacademy.com.
[smartslider3 slider=162]