Greg Miller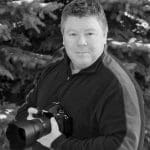 Greg Miller photographs a wide range of subjects from bold & colorful panoramas of dramatic elements of nature to intimate monochromatic artistic nudes with subtle textures and tones. Commercial assignments include projects ranging from New York's Adirondacks to Chilean Patagonia. Miller has three photography books published. His third book celebrates the natural beauty of Tuxedo Park. a private enclave founded by the gilded elites of New York City. His first photo book, The Hudson River: A Great American Treasure (Rizzoli, 2008) has been honored by being named to The Bloomsbury Review's Favorite Books of the Year list for 2008. In 2011, Miller was honored by being selected as one of three artists represented in the inaugural limited edition Artist Portfolio by the Samuel Dorsky Museum of Art, New Paltz, NY. Greg served as "Artist in Residence" at Acadia National Park in autumn of 2009. Greg's photographs have been featured internationally in publications such as Popular Photography & Imaging, Outside, B&W (Black and White) magazine, Photo District News, Europe's DIGIfoto magazine, Hudson Valley, Budget Travel, and InsideOut Hudson Valley. Greg is a Singh-Ray Filter featured photographer.
http://www.gregmillerphotography.com/#!/index
http://www.gregmillerphotography.com/#!/p/tuxedo-park-the-gif
Call Digital Photo Academy at 1 877 372 2231. Lots of people seem to hang up if our welcome recording comes on instead of a live voice, but we promise to return your message within a day or two if you leave one with your name and number.  It would be even better if you included your e mail address as well as the date and city of the class you are considering.  If leaving a voice mail message is not your thing, please email us at DPAbooking@digitalphotoacademy.com or Richard@digitalphotoacademy.com.
[pix_slideshow data_slideshow='greg-miller']