George Schaub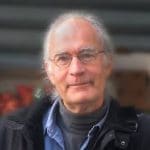 George Schaub, Chief Editorial Advisor at Digital Photo Academy, has authored over 20 books on photography and is currently the Editor at Large at Shutterbug magazine, an associate professor at Parsons School of Design in New York City, and a member of the Technical Committee of the Technical Image Press Association (TIPA), a worldwide organization of photo reporters and editors.
His photography and writing has appeared in the New York Times Sunday Arts & Leisure section, Popular Mechanics, Men's Journal, Camera Arts, American Photography, and Travel & Leisure, and he has had over 2000 articles published in numerous photo and imaging journals and magazines. He has also taught at numerous workshops, lectured at universities in the US and abroad, and led shooting expeditions in the US, Canada, and the Caribbean. He has led printing and digital photography workshops at the Santa Fe Workshops, Maine Media College, New Hampshire Institute of Art, and the Palm Beach Photographic Centre.
Starting as a freelance photographer and lab technician who ran a custom black and white printing lab, his editorial work began as an Associate, then Executive editor at Popular Photography magazine from 1984-1989. He then became Editorial Director at the PTN Photo Group, which published 5 magazines that covered commercial, laboratory, and industrial photography, as well as daily newspapers that reported on various professional trade shows and events, including those at Photokina in Germany. In 2000 he joined Shutterbug magazine as editorial director and helped establish their online presence, and in 2010 became editorial director at Petersens Photographic magazine as well.
His prints have been displayed at various galleries in individual and group shows throughout the US, and was chosen as part of the Taos Selects show in 2013. His most recent project was editing "Twentieth Century Photographers" published by Focal Press (2015), interviews and essays from a wide-ranging group of photographers done by his late wife Grace, which were published in numerous photo magazines from 1984-2000. He currently splits his time between his homes in Sea Cliff, NY and Taos, NM and continues to photograph, print and contribute articles to numerous magazines and web sites.
Call Digital Photo Academy at 1 877 372 2231. Lots of people seem to hang up if our welcome recording comes on instead of a live voice, but we promise to return your message within a day or two if you leave one with your name and number. It would be even better if you included your e mail address as well as the date and city of the class you are considering. If leaving a voice mail message is not your thing, please email us at DPAbooking@digitalphotoacademy.com or Richard@digitalphotoacademy.com.