Elton Saulsberry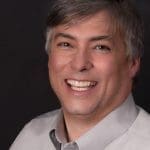 Elton Saulsberry has been involved with photography since 1975. He is a PMA Certified Photographic Counselor. His work has been juried into multiple Atlanta area gallery shows and has won numerous awards. He is the past-president of the Southeastern Photographic Society. He enjoys teaching and sharing his love of photography with others.
Elton Saulsberry first picked up a camera when he was in high school but really earned his "photo legs," years before that at age 13 when he began working at his parents Photo Lab, Sun Photo, with 3 locations in Ann Arbor, Michigan, including a location on the U of Michigan campus. He kept the job through college, printing more rolls of film than he could count and was even known to hit the University of Michigan Side Lines taking photos of the football team competitions when his dad could not make the gigs.
His first camera was a Fujica ST 801 but after it was stolen during an excursion to NYC, he replaced it with a Nikon F2 and has stuck to Nikon ever since.
In 1988 work took Elton to Atlanta, and like any self-respecting shooter, Elton has had his share of commercial gigs as a wedding, product and portrait photographer but his real passion remains in Landscape and Wildlife photography, as shown herein in the powerful images in his slide show. This devotion to picture taking soon took all of his spare time, particularly after he happened to meet the then president of the Southeastern Photographic Society who lived next door to his wife's parents. The friendship lead to countless photo excursions in Atlanta and before long Elton's portfolio extended to Macro, Nature, Urban Life, Still Lives, Portraiture and more.
Always on the hunt for compelling subject matter, Elton traveled to Nevada, New Mexico, Utah, Colorado, Vancouver, Oregon, Maine, New Brunswick, Florida, Iceland, Italy, Spain, Portugal, Morocco and elsewhere. Also, under the moniker of the F2 Photo School, with co-DPA instructor, Ken Ross, there was the photo workshop with 20 attendees in Alaska.
Saulsberry has been recognized with awards in countless SPS Competitions including most recently the 40th Anniversary Gallery show. His work has successfully sold in gallery exhibitions including recent participation at the Calenwald Fine Art Center.
Call Digital Photo Academy at 1 877 372 2231. Lots of people seem to hang up if our welcome recording comes on instead of a live voice, but we promise to return your message within a day or two if you leave one with your name and number. It would be even better if you included your e mail address as well as the date and city of the class you are considering. If leaving a voice mail message is not your thing, please email us at DPAbooking@digitalphotoacademy.com or Richard@digitalphotoacademy.com.
[pix_slideshow data_slideshow='elton-saulsberry']