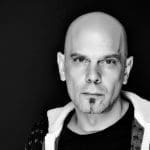 Dimitrios Papanikos was born and raised in Germany and is of Greek descent. He is fluent in German, Greek, and English. Dimitrios has traveled throughout Europe, having also lived in Greece and now currently resides in NYC with his wife. He turned his love of photography of over 10 years into a full time passion and is the owner of Dimi Papanikos Photography. His focus is in the areas of portrait photography, fine art, street photography, weddings, family events and other special occasions. He has volunteered his time with the Josephine Herrick Project in Brooklyn, NY instructing young students in basic photography skills.
Notably, in August 2016, Dimitrios won honorable mention for his photo submission in the Fresh Kills Park Alliance photo contest and has his work on display
in the Staten Island Arts Cultural Lounge. He has also been the recipient of peer awards from various online photo contests.
[pix_slideshow data_slideshow='dimi-papanikos']