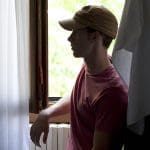 Daniel has worked in both professional studio settings and freelance areas. He also spent two years managing an analogue and digital lab for the University of North Florida. Daniel started photographing when he was 14 years old after being accidently placed in a creative photography class as a high school freshman. Daniel's photographs investigate the effect of time on photographs and often use found imagery. All of his photographs are also inspired by spiritual themes, which emanate from his personal life. His work has been featured in numerous print magazines and online publications. He currently resides in Philadelphia, Pennsylvania where he is pursuing a MFA in photography at Tyler School of Art. In 2013 he received a BFA in Photography and a BA in History from the University of North Florida, Jacksonville.
"A photograph describes everything but explains nothing." –John Szarkowski

Call Digital Photo Academy at 1 877 372 2231. Lots of people seem to hang up if our welcome recording comes on instead of a live voice, but we promise to return your message within a day or two if you leave one with your name and number. It would be even better if you included your e mail address as well as the date and city of the class you are considering. If leaving a voice mail message is not your thing, please email us at DPAbooking@digitalphotoacademy.com or Richard@digitalphotoacademy.com.
[pix_slideshow data_slideshow='daniel-kraus']