Dan Komoda
http://www.eyesquid.photo/#!/index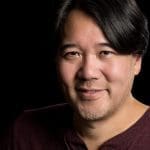 Dan is a freelance photographer, video producer, editor and motion graphics artist based out of New Jersey. After graduating from Rowan University in 1993 with a degree in Television and Film, Dan's first job was for Comcast as a Commercial Producer working on local TV spots. Having greater aspirations, he got a job in New York City at Ketchum Public Relations as their Senior Video Producer. Over the next few years, Dan built up the department and created Ketchum Video – the source for all aspects of video production for the agency. A typical day meant working on projects for FedEx, IBM, VISA and Levi's. Although proud of his accomplishments while running Ketchum Video for 9 years, Dan decided to pursue his entrepreneurial spirit – and his new love of photography – and form his own company, Eyesquid.
Eyesquid opened up a whole new world. Dan was able to bounce from client to client for video projects, while at the same time exploring photography and honing his skills, even taking classes at the Digital Photo Academy. Before he knew it, his agency contacts were now turning to him for corporate headshots, product shots and events, which meant he didn't get to start small. Some of his first professional shoots were for Gillette, HP and Timberland. In fact, one of the first models he ever worked with was supermodel/actress, Brooklyn Decker.
Today, Dan continues to do photography for clients like Pfizer, American Express and Bristol Myers Squibb as well as doing as much personal work time will allow. His photography has appeared in art galleries, events, advertising campaigns, and a cookbook.
He continues to educate himself on all forms and techniques of photography. Now as an instructor himself, he hopes to share his love for photography and pass on what he has learned to others.
Call Digital Photo Academy at 1 877 372 2231. Lots of people seem to hang up if our welcome recording comes on instead of a live voice, but we promise to return your message within a day or two if you leave one with your name and number.  It would be even better if you included your e mail address as well as the date and city of the class you are considering.  If leaving a voice mail message is not your thing, please email us at DPAbooking@digitalphotoacademy.com or Richard@digitalphotoacademy.com.
[pix_slideshow data_slideshow='dan-komoda']