WICKER PARK[pix_slideshow data_slideshow='wicker-park-two']
ASK ABOUT OUR BACK-TO-BACK SAME DAY WORKSHOP OFFER STARTING WITH A SIT-DOWN SESSION FOLLOWED BY A 3-HOUR DEMONSTRATION PHOTO SHOOT, LED BY A PROFESSIONAL PHOTOGRAPHER
And in case you're interested, click here to check out some FREE SAMPLES of our ONLINE CLASSES
The locals have the inside scoop on the Wicker Park Historic District, 4 acres, as a place for hipsters, culture bugs and artists so not surprisingly there is an abundance of charming shops, galleries and restaurants. The park was established, thanks to alderman Charles Wicker and his brother, Joel in 1868 and has undergone a series of significant transformations including restoring of bordering structures that provide excellent photo ops of old world architecture. Forbes voted Wicker Park as the 4th hippest hipster neighborhood in the U.S. so all of this makes for compelling street photography of the building interiors, exteriors, neighborhood residents as well as those visiting from elsewhere including Chicago itself, other U.S. cities and international travels. Your instructor, will demonstrate easy to learn techniques for selecting backdrops that add to the environmental portraits such as the many colorful wall murals in the area, dynamic signs and store fronts, remnants of the street construction from the 19th century and more.
For this photo workshop there is the extra benefit of the Wicker Park Bucktown Farmer's Market, with more environmental portrait opportunities of venders manning their colorful displays of fruits, vegetables and an unending variety of produce, flowers, trinkets, antiques and various flea market items. Your instructor will help you gain the strategies to engage people on the streets and catch them in a natural pose or even help them to present the angles that are most flattering. This might be in close up shots, further away, with how to select the right colors in backdrop whether aperture controlled blurring of the background or making the colors compliment or contrast the main subject in a compelling manner. Actually, you will learn techniques that you can not only use when making your own portraits of friends and family but the information will even be helpful when you yourself are the one being photographed.
The group will meet at 1425 N Damen Ave in front of the Field House.
1425 N Damen Ave
Chicago, IL 60622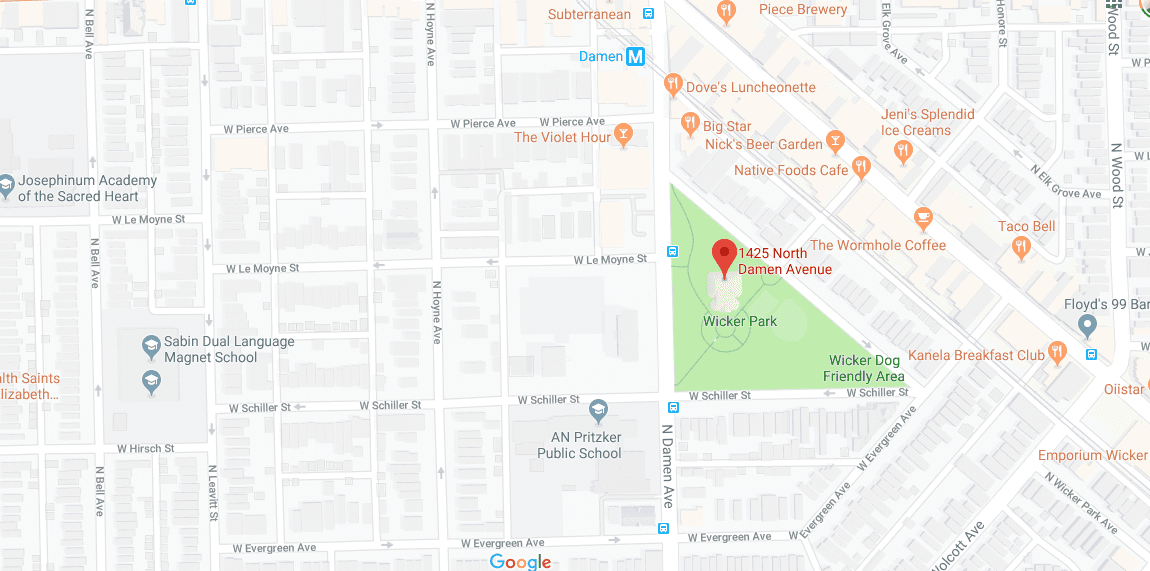 Call Digital Photo Academy at 1 877 372 2231. Lots of people seem to hang up if our welcome recording comes on instead of a live voice, but we promise to return your message within a day or two if you leave one with your name and number.  It would be even better if you included your e mail address as well as the date and city of the class you are considering.  If leaving a voice mail message is not your thing, please email us at DPAbooking@digitalphotoacademy.com.