[pix_slideshow data_slideshow='vintage-fine-arts-building']
Vintage Fine Arts Building (Studebaker Building, built in 1884)
First built as an 8 story building to sell, service and manufacture Studebaker Carriages in 1884, a few years later construction resulted in the addition of 2 more stories and now remains a tribute to the best of old world architecture. Located in the Chicago Landmark Historic Michigan Boulevard District, the magnificent granite columns accessorize the entrance and were at one time the largest of its kind in the nation. Add the interior Art Nouveau motifs and murals that define the decor, and you will agree that there are photo ops on every floor in every direction.  The Art of Detail is present with vintage sconces, wrought iron stairways and patterns on the floors and walls.
Your DPA instructor will help you to employ classic rules of composition throughout the space from Leading Lines looking down the staggering atrium, negative space along the hallways and other creative ways to express your signature style.
But the greatest opportunities lie within the opportunity to capture dynamic environmental portraits, set against a soulful sensibility of a past, somewhat abandoned energy that remains still rich with narrative.  After all the space, long past its original function, now houses artists studios, art galleries, interior design firms, musical instrument makers and a variety of other artistic endeavors including a symphony hall and ballet school. You undoubtedly will chance upon artists and artisans more than willing to pose, as well as photo ops to turn snapshots of your co-attendees into mood laden portraits with dramatic lighting, vintage murals as backdrops, and ornate design elements to accessorize each model shoot. You may even walk away with some portfolio worthy images of yourself!
Call Digital Photo Academy at 1 877 372 2231. Lots of people seem to hang up if our welcome recording comes on instead of a live voice, but we promise to return your message within a day or two if you leave one with your name and number.  It would be even better if you included your e mail address as well as the date and city of the class you are considering.  If leaving a voice mail message is not your thing, please email us at DPAbooking@digitalphotoacademy.com or Richard@digitalphotoacademy.com.
Meet just inside the entrance of the building at 410 S Michigan Avenue, just across from Grant Park.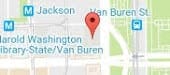 410 S Michigan Avenue
Chicago, IL  60605