The Dallas Arts District
[pix_slideshow data_slideshow='the-dallas-arts-district']
ASK ABOUT OUR BACK-TO-BACK SAME DAY WORKSHOP OFFER STARTING WITH A SIT-DOWN SESSION FOLLOWED BY A 3-HOUR DEMONSTRATION PHOTO SHOOT, LED BY A PROFESSIONAL PHOTOGRAPHER 
And in case you're interested, click here to check out some FREE SAMPLES of our ONLINE CLASSES.
The Arts District is unique to the city. The wide-flung area is particularly rewarding to the curious pedestrian. One street intersection accommodates the Dallas Museum of Art, the Nasher Sculpture Garden, considered to be a world class installation, and the Crow Collection of Asian Art. The decades-long efforts of the city's planners and benefactors have led to the erection of designs by such members of the architectural pantheon as I.M. Pei, Renzo Piano, Rem Koolhaas, Sir Norman Foster and other notables. The District also includes, to mention a few, a symphony hall, an opera hall, a concert hall, a live performance theater and Klyde Warren Park. The five acre park, which creatively spans a below grade highway, offers several food services and an elegant modern restaurant. The Trammell Crow Center, built in the 1980s, was dubbed the campanile of the Arts District when it was constructed-an epithet which has accurately presaged what was to come.
Flora St, Dallas, TX  75201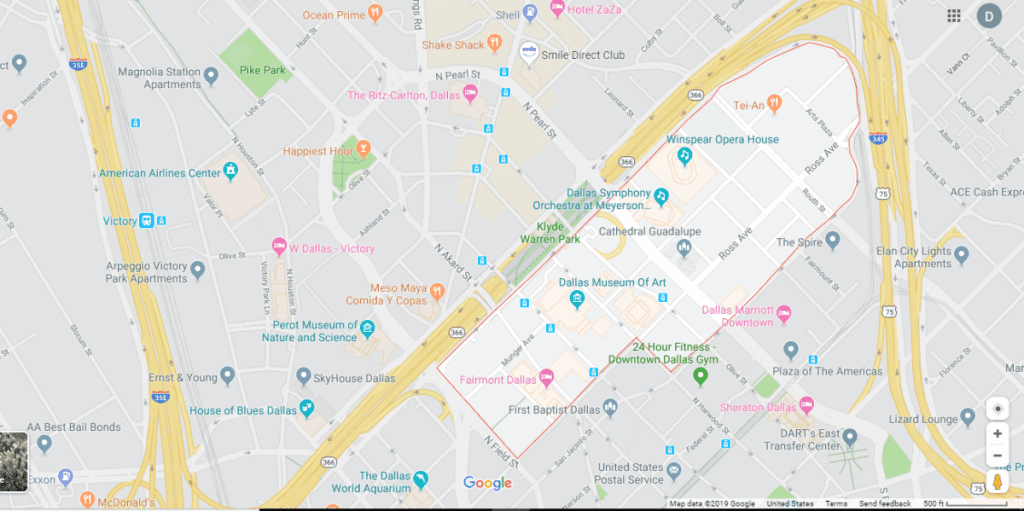 Call Digital Photo Academy at 1 877 372 2231. Lots of people seem to hang up if our welcome recording comes on instead of a live voice, but we promise to return your message within a day or two if you leave one with your name and number.  It would be even better if you included your e mail address as well as the date and city of the class you are considering.  If leaving a voice mail message is not your thing, please email us at DPAbooking@digitalphotoacademy.com or Richard@digitalphotoacademy.com.