St. Luke's Episcopal Church
[smartslider3 slider=34]
ASK ABOUT OUR BACK-TO-BACK SAME DAY WORKSHOP OFFER STARTING WITH A SIT-DOWN SESSION FOLLOWED BY A 3-HOUR DEMONSTRATION PHOTO SHOOT, LED BY A PROFESSIONAL PHOTOGRAPHER 
And in case you're interested, click here to check out some FREE SAMPLES of our ONLINE CLASSES.
St. Luke's Episcopal Church in Atlanta was many of the tragic casualties of the Civil War but in 1864, Easter Monday, a determined group of congregationalists embarked upon the resurrection and founded St. Luke's parish. Soon it returned to a its former vibrancy, a center of spirituality, community outreach and a general meeting place for the community. In 1906, the current structure was erected, a dramatic example of English Gothic architecture that shows beautifully for any photo enthusiast. The exterior, with it bold gates and bell tower is not the only photo op of St. Luke's. This is clearly exemplified once inside and in view of the magnificent organ, a glorious collection of stained glass windows beneath high ceilings and an ornate altar on display. Your DPA instructor will share techniques of capturing ambient lighting of the grand room itself, with the magical lighting streaming in to the sanctuary. There will be an array of photo composition tips shared such as leading lines lessons that make use of the richly hued wooden pews. The art of the detail will be covered as well, allowing you to capture images of antique murals, flourishes of design elements and moldings that just no longer exist in modern architecture.  As an additional feature, your DPA Instructor will also provide powerful tips for working within the theme and details of the locale to create powerful portraits.
Meet at  the lower parking lot, off of Courtland St. NE & Currier St. NE, near the "circle drive".
435 Peachtree Street
Atlanta, GA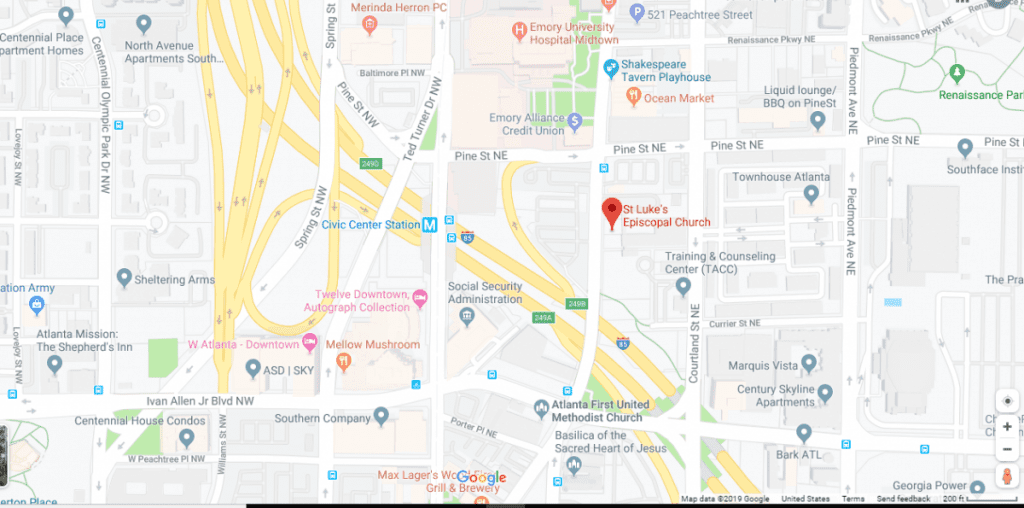 Call Digital Photo Academy at 1 877 372 2231. Lots of people seem to hang up if our welcome recording comes on instead of a live voice, but we promise to return your message within a day or two if you leave one with your name and number.  It would be even better if you included your e mail address as well as the date and city of the class you are considering.  If leaving a voice mail message is not your thing, please email us at DPAbooking@digitalphotoacademy.com or Richard@digitalphotoacademy.com.