Seattle Public Library
[pix_slideshow data_slideshow='seattle-public-library']
ASK ABOUT OUR BACK-TO-BACK SAME DAY WORKSHOP OFFER STARTING WITH A SIT-DOWN SESSION FOLLOWED BY A 3-HOUR DEMONSTRATION PHOTO SHOOT, LED BY A PROFESSIONAL PHOTOGRAPHER 
And in case you're interested, click here to check out some FREE SAMPLES of our ONLINE CLASSES
Within the first year of the Seattle Public Library opening to the public, 2.3 million people visited. Many of them came, of course, for the gigantic collection of reading materials, art, and media that the library houses, but a large percentage came inside for a closer look at the intricate architecture, described as "floating platforms wrapped in a large steel net around glass skin."
The eleven-story structure was built around the needs of the collection, parts of it literally spiraling so shelving could go on uninterrupted. This sensitivity to its purpose makes it architecturally different from most modern glass-and-steel structures.
The mix of artificial and natural light that fill the structure will make for an interesting challenge. You will learn how to navigate the settings of your camera in order to take the best possible shot in the dramatic interior.
That's not to say you will be entirely limited to the interior of the library. Weather permitting, the land around the building is scattered with interesting fountains like the one above. Play with shutter speed to control the blur left behind by the motion of the water for either a crisp, clear image, or a smooth, velvety one.
In this class, you will learn compositional tips and techniques including leading lines, perfectly executed above. This strategy guides the eyes viewers across your photograph.
The glass allows for a unique persective of the skyline. Take photos of buildings from inside a building for layers of patterned glass.
The large, open spaces and dramatic angles make for an interesting background. Take pictures of the library's patrons in their element for some dynamic portraits.
1000 4th Ave
Seattle, Washington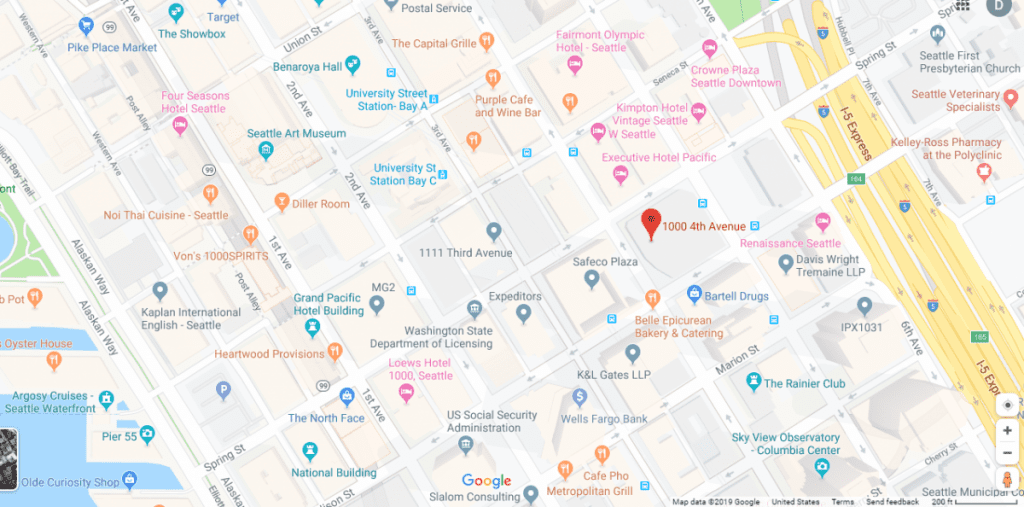 Call Digital Photo Academy at 1 877 372 2231. Lots of people seem to hang up if our welcome recording comes on instead of a live voice, but we promise to return your message within a day or two if you leave one with your name and number.  It would be even better if you included your e mail address as well as the date and city of the class you are considering.  If leaving a voice mail message is not your thing, please email us at DPAbooking@digitalphotoacademy.com or Richard@digitalphotoacademy.com.