Scott's Run Nature Preserve
[smartslider3 slider=194]
ASK ABOUT OUR BACK-TO-BACK SAME DAY WORKSHOP OFFER STARTING WITH A SIT-DOWN
SESSION FOLLOWED BY A 3-HOUR DEMONSTRATION PHOTO SHOOT, LED BY A PROFESSIONAL PHOTOGRAPHER
And in case you're interested, click here to check out some FREE SAMPLES of our ONLINE CLASSES
If you are a photographer in the DC area looking for a convenient and nearby array of portfolio-worthy images you will get yourself over to Scott's Run Nature Preserve. The 300 acres of scenic beauty is a soothing experience, with or without a camera, but its idyllic setting is an excellent vehicle for a variety of camera lessons, inspiring composition strategies for any picture-taking equipment whether a cell phone, DSLR, Mirrorless or large format camera.
Practice the art of Aperture Priority Control on a spray of colorful flowers in fields adjacent to the winding Potomac Heritage Trail. The layout offers a leading line perspective on the trail itself or choose between an impressionistic interpretation of a crisp and richly saturated flower against a blurred background of greenery or the Potomac itself. Or open your aperture for and capture a vision of panoramic glory, dynamic rock formations in the foreground leading to cascading waters in the recesses of the scene.
Your instructor will demonstrate and supervise as you control the camera's shutter speed priority options allowing you to create a velvety smooth flow of rushing waters. If you prefer, stop the water, as if you have frozen time forever.
Aim your camera above you as perched birds pose amongst the trees or catch them in a blur as they launch skyward.
Flowers, waters, birds, trees, babbling brooks, work to evolve your signature style and depart with a series of photos that tell the memorable and beautiful story of the day.
7400 VA-193, McLean, VA 22102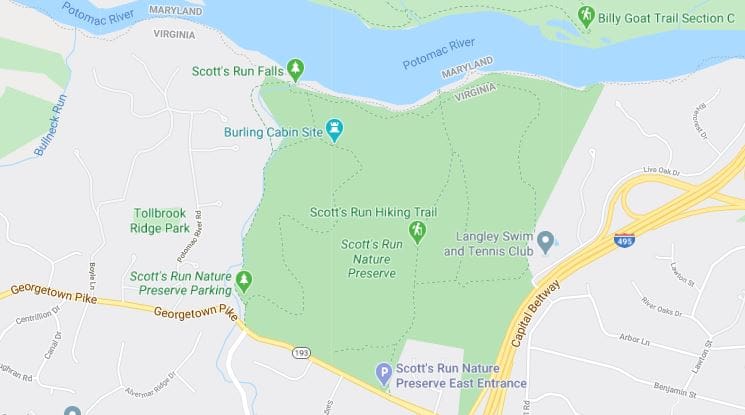 Call Digital Photo Academy at 1 877 372 2231. Lots of people seem to hang up if our welcome recording comes on instead of a live voice, but we promise to return your message within a day or two if you leave one with your name and number.  It would be even better if you included your e mail address as well as the date and city of the class you are considering.  If leaving a voice mail message is not your thing, please email us at DPAbooking@digitalphotoacademy.com.