[pix_slideshow data_slideshow='scioto-audubon-metro-park']
Scioto Audubon Metro Park 
Scioto Audubon Metro Park has features not typically found at City Parks. It is 120 acres of reclaimed urban land with breathtaking views of the downtown skyline. This is an active park filled athletes in motion,climbing walls and obstacle courses. There are nature trails, ponds, grassland and a deck at the Audubon Nature Center if you just want to sit and watch the day go by. A focal point, is the old war water tower that they've re-purposed into an observation deck. A perfect locale for all photo enthusiasts to create a timeless impression for anyone who views your images.
There is a certain way to photograph water, still or moving, which will be taught in this session as well as creating a perfectly composed skyline image using elements s of the park in the foreground to create a storybook sense of the city.
Call Digital Photo Academy at 1 877 372 2231. Lots of people seem to hang up if our welcome recording comes on instead of a live voice, but we promise to return your message within a day or two if you leave one with your name and number.  It would be even better if you included your e mail address as well as the date and city of the class you are considering.  If leaving a voice mail message is not your thing, please email us at DPAbooking@digitalphotoacademy.com or Richard@digitalphotoacademy.com.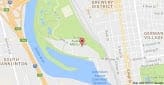 400 W Whittier St
Columbus, OH 43215