[pix_slideshow data_slideshow='sausalito']
Sausalito
Destination photography is a favorite genre for most photographers. You are lucky enough to travel to some far-off land, and you want your photos to convey everything you experience:  the story of the amazing people you met, the smells of the gorgeous food, the true majesty of every sunset and historical monument.
We'll learn to constantly think about the mood we're setting, and trying to create a consistent feel throughout our 'travel diary' – do you want to express that Sausalito is quiet and rainy by giving your photos a blue and green hue? do you want to re-create the vibrance of India by focusing on the chaos in the streets and saturated colors?
We'll walk around to get a feel for the place, and then talk briefly about what each person hopes to communicate through the imagery they'll create. Then we'll have a  critique of the images created.
Call Digital Photo Academy at 1 877 372 2231. Lots of people seem to hang up if our welcome recording comes on instead of a live voice, but we promise to return your message within a day or two if you leave one with your name and number.  It would be even better if you included your e mail address as well as the date and city of the class you are considering.  If leaving a voice mail message is not your thing, please email us at DPAbooking@digitalphotoacademy.com or Richard@digitalphotoacademy.com.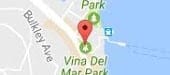 The meeting spot in Sausalito is by the elephants at Sausalito Vina del Mar Park. It's right on the main street in town and next to the ferry landing.
Vina Del Mar Park
Sausalito , CA 94965