Race Street Pier
It is no wonder that the Race Street Pier is a popular venue for weddings and other once-in-a-lifetime events, with its sweeping waterfront vistas and the dramatic visual of the bridge.
Your DPA instructor will help you develop composition techniques to capture these settings in compelling manners well beyond a snap shot sensibility and will also help you to capture street portraiture and panning images of the dog-walkers, bicyclists, skateboarders and picnickers.
Call Digital Photo Academy at 1 877 372 2231. Lots of people seem to hang up if our welcome recording comes on instead of a live voice, but we promise to return your message within a day or two if you leave one with your name and number.  It would be even better if you included your e mail address as well as the date and city of the class you are considering.  If leaving a voice mail message is not your thing, please email us at DPAbooking@digitalphotoacademy.com or Richard@digitalphotoacademy.com.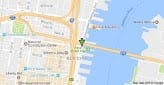 Race Street & N. Columbus Blvd
Philadelphia, PA 19106