[pix_slideshow data_slideshow='pa-city-hall']
Philadelphia City Hall
Philadelphia's City Hall is the centerpiece of the Avenue of the Arts, which is lined with buildings of outstanding and unique Architecture. It sits on one of the 5 squares that William Penn used to layout the city's grid. The building is topped by an 11.3 m (37 ft), 27-ton bronze statue of city founder William Penn, one of 250 sculptures created by Alexander Milne Calder that adorn the building inside and out. The statue is the tallest atop any building in the world.
Your instructor will walk the outside of the building as well as the surrounding structures in the area with you, all the while conveying the concepts of composition and camera operation to help you approach the towering structures in a way that will help you approach the subjects with a personal, and creative point of view.
The cold weather might require a heavy coat, and good walking shoes, but the winter light makes this season a special time to make portfolio worthy images.
Call Digital Photo Academy at 1 877 372 2231. Lots of people seem to hang up if our welcome recording comes on instead of a live voice, but we promise to return your message within a day or two if you leave one with your name and number.  It would be even better if you included your e mail address as well as the date and city of the class you are considering.  If leaving a voice mail message is not your thing, please email us at DPAbooking@digitalphotoacademy.com or Richard@digitalphotoacademy.com.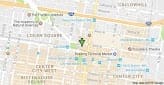 City Hall tower:
$6.00 per person no minimum.
1401 John F Kennedy Blvd
Philadelphia, PA 19107