Minneapolis Sculpture Garden
[pix_slideshow data_slideshow='sculpture-garden']
ASK ABOUT OUR BACK-TO-BACK SAME DAY WORKSHOP OFFER STARTING WITH A SIT-DOWN SESSION FOLLOWED BY A 3-HOUR DEMONSTRATION PHOTO SHOOT, LED BY A PROFESSIONAL PHOTOGRAPHER 
And in case you're interested, click here to check out some FREE SAMPLES of our ONLINE CLASSES.
Back in 1933 it was a large brick National Guard building in front of the formal gardens, but the building itself was torn down, leaving the gardens, which for 35 years or so had become a open field. Then in 1988 the Walker Art Center and the Minneapolis Park and Recreation Board collaborated to create the 7 acres of the Sculpture Garden with 40 permanent pieces. In the early 90's another 4 acres were added, and there are 40 permanent pieces peppered throughout the setting.
Indoors, a respite from the cold during winter season, many a photographer can be seen capturing the fluid lines of organic sculptures against the hypnotic patterns of glass and metal framing as well as the repetitive squares of the brick flooring, leading lines or offerings of a contrasting background to the plant life and artwork.
Outside, DPA Instructor Richard Sennott, will help decipher the many photographic interpretations of grids, gates and vertical lines with the pathways and outer structures, perfect to drop in a passerby for an environmental portrait.
In other areas as one approaches the building, keep an eye out for the people as they encounter abstract representations of all sorts. Spacial relations, facial expressions and proportions allow photographs that lead the eye of the viewer.
Then of course, there are the imposing larger than life sculptures everywhere one points the lens. Perfect your Depth-of-Field work against backdrops of greenery, blue sky and man made structures.
Whether with the whites of winter or the other colors throughout the year, there is always a slightly bizarre scene to be photographed in and around the Minneapolis Sculpture Garden.
725 Vineland Pl Minneapolis, MN 55403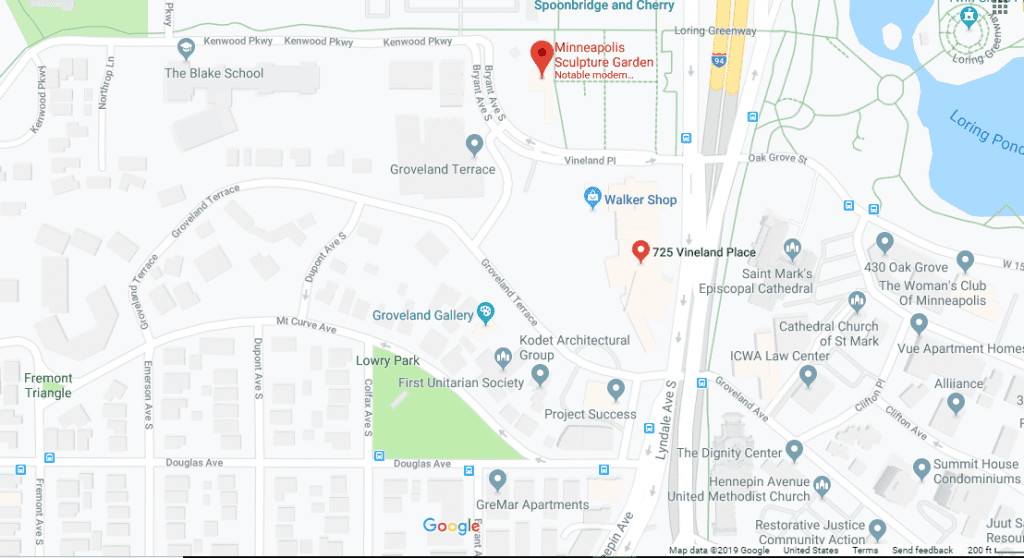 Call Digital Photo Academy at 1 877 372 2231. Lots of people seem to hang up if our welcome recording comes on instead of a live voice, but we promise to return your message within a day or two if you leave one with your name and number.  It would be even better if you included your e mail address as well as the date and city of the class you are considering.  If leaving a voice mail message is not your thing, please email us at DPAbooking@digitalphotoacademy.com.