Millennium Park
[pix_slideshow data_slideshow='millennium-park']
ASK ABOUT OUR BACK-TO-BACK SAME DAY WORKSHOP OFFER STARTING WITH A SIT-DOWN SESSION FOLLOWED BY A 3-HOUR DEMONSTRATION PHOTO SHOOT, LED BY A PROFESSIONAL PHOTOGRAPHER 
And in case you're interested, click here to check out some FREE SAMPLES of our ONLINE CLASSES.
Millennium Park is a fantastic combination of art, culture, nature, and urban life.  With some of the most unique architecture and most interesting art work in the city, not to mention the free tours, concerts, exhibitions, and family events, Millennium Park is understandably one of the greatest attractions in Chicago.  Join your Digital Photo Academy instructor to explore this lively venue through your camera lens.
If you're interested in shooting architecture, Millennium Park is the perfect place for you.  If you're interested in street photography, you've found your destination.  If you're interested in photographing people, transportation, and urban details, this is still a great venue for you.  Basically, Millennium Park has something for every budding photographer!
There's also a fantastic dome to photograph.  Capture the reflection of the cityscape and the clouds as they circle and morph around the silver globe, and show how this little world pops out of a field of trees and greenery.
Photographing with a professional photographer in the field gives you the unique opportunity to ask applicable questions, learn new techniques, and gain experience shooting in manual mode.  Learn about exposure, contrast, rule of thirds, lighting, and other compositional strategies that help create a strong photograph.
We will meet next to the Cloud Gate sculpture in Millennium Park, Chicago, IL.  Please bring your DSLR or another type of camera that you use, a fully-charged battery, and the equipment that you can carry.  Please dress for the weather and wear comfortable shoes.
201 E Randolph St, Chicago, IL 60602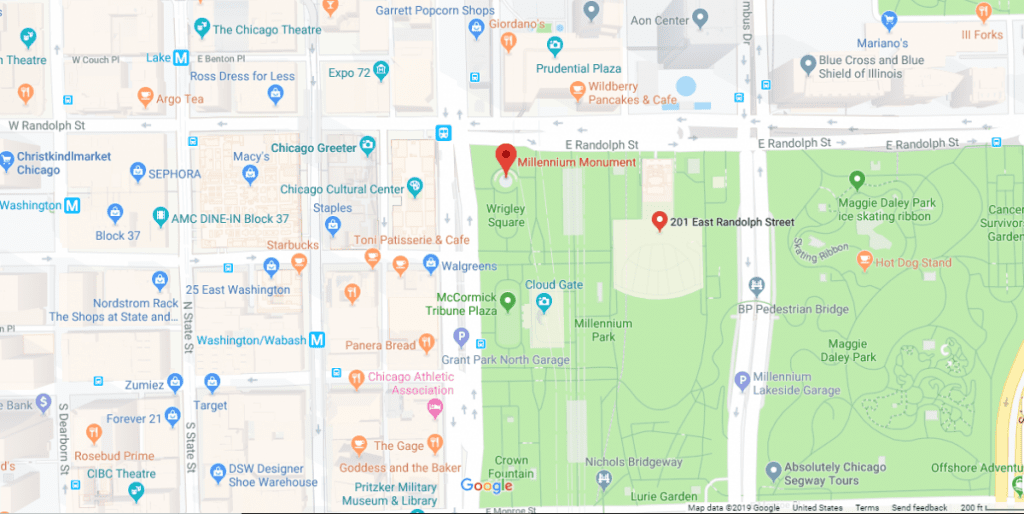 Call Digital Photo Academy at 1 877 372 2231. Lots of people seem to hang up if our welcome recording comes on instead of a live voice, but we promise to return your message within a day or two if you leave one with your name and number.  It would be even better if you included your e mail address as well as the date and city of the class you are considering.  If leaving a voice mail message is not your thing, please email us at DPAbooking@digitalphotoacademy.com.