Margaret Mitchell House
[smartslider3 slider=185]
ASK ABOUT OUR BACK-TO-BACK SAME DAY WORKSHOP OFFER STARTING WITH A SIT-DOWN
SESSION FOLLOWED BY A 3-HOUR DEMONSTRATION PHOTO SHOOT, LED BY A PROFESSIONAL PHOTOGRAPHER
And in case you're interested, click here to check out some FREE SAMPLES of our ONLINE CLASSES
While Pulitzer Prize winner, Margaret Mitchell, author of, "Gone With The Wind," referred to her basement apartment as, "The Dump," her former dwelling space was spruced up and now is a photo op, indoors and outdoors, earning a listing on the National Historic Register.
The house was originally built as an uptown single family home in 1899 but 20 years later it was converted to a 10 unit apartment house. The building endured a number of catastrophes from the stock market crash in 1929 to more than one bankruptcy and 2 fires, (one suspected as insurance fraud arson).
Still the home, now a museum, has been reformulated to include the luxurious sets of the house, "Tara Oaks," that was actually used in the famed film, "Gone With The Wind." This means great photo ops for interior space photography and your instructor will demonstrate and supervise helpful approaches to capture images with natural window and ambient lighting. There are ways to compose interior photographs that are transcend snapshot status.
In this theatrical setting there will also be portraiture tips included in this lesson, individual as well as group, with willing workshop participants. Whether Rule of Thirds, Aperture Priority, there are easy to learn tips which will be useful for all future photo activities, whether casual family gatherings, parties and other special events.
The charming brick exterior, built over a century ago, also offers landscape and architectural photo ops. Try framing the building with the wrought iron fence or move in closer and focus on the silhouette of the roof against the sky for a surreal sensibility. Incorporate various landscape items such as trees and bushes to create a dynamic layout that adds character and visual balance to appeal to the viewers of your image.
979 Crescent Ave NE, Atlanta, GA 30309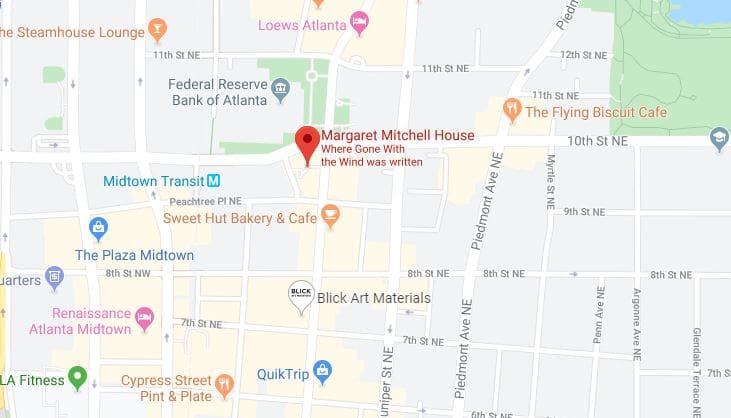 Call Digital Photo Academy at 1 877 372 2231. Lots of people seem to hang up if our welcome recording comes on instead of a live voice, but we promise to return your message within a day or two if you leave one with your name and number.  It would be even better if you included your e mail address as well as the date and city of the class you are considering.  If leaving a voice mail message is not your thing, please email us at DPAbooking@digitalphotoacademy.com.