Los Angeles Union Station
[smartslider3 slider="224″]
ASK ABOUT OUR BACK-TO-BACK SAME DAY WORKSHOP OFFER STARTING WITH A SIT-DOWN SESSION FOLLOWED BY A 3-HOUR DEMONSTRATION PHOTO SHOOT, LED BY A PROFESSIONAL PHOTOGRAPHER 
And in case you're interested, click here to check out some FREE SAMPLES of our ONLINE CLASSES.
 Union Station was completed in 1939 — a masterpiece of Spanish Revival and art deco.  Today, its breathtaking architecture and ornate details welcome not only trains, but also visitors who gawk at the 50-foot ceilings, brides and grooms who wed in the "Last of the Great Railway Stations," and production crews who hope to travel back to the '30s.  The splendid artistry at Union Station offers something to amaze everyone.  Join your Digital Photo Academy instructor to photograph a piece of history that continues to evolve with LA's modern environment.
You will photograph side-by-side with your DPA Instructor to learn the secrets of professional photographers and develop your own compositional techniques.  You will learn new strategies to shoot in low-lit areas, capture the details and colors of architectural wonders, and use crowds to accent the importance of unique sites.
We will meet outside of the main entrance to Union Station, located at 800 N Alameda Street, Los Angeles, CA 90012.  Please bring your DSLR or another type of camera that you use, a fully-charged battery, and the equipment that you can carry.  A tripod would be helpful, but it is not necessary.
800 N Alameda Street
Los Angeles, CA 90012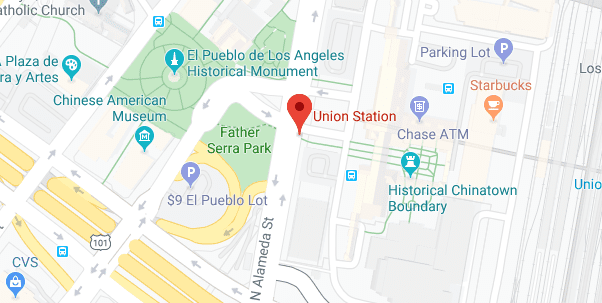 Call Digital Photo Academy at 1 877 372 2231. Lots of people seem to hang up if our welcome recording comes on instead of a live voice, but we promise to return your message within a day or two if you leave one with your name and number.  It would be even better if you included your e mail address as well as the date and city of the class you are considering.  If leaving a voice mail message is not your thing, please email us at DPAbooking@digitalphotoacademy.com or Richard@digitalphotoacademy.com.