Greektown
[pix_slideshow data_slideshow='greektown-detroit']
ASK ABOUT OUR BACK-TO-BACK SAME DAY WORKSHOP OFFER STARTING WITH A SIT-DOWN SESSION FOLLOWED BY A 3-HOUR DEMONSTRATION PHOTO SHOOT, LED BY A PROFESSIONAL PHOTOGRAPHER 
And in case you're interested, click here to check out some FREE SAMPLES of our ONLINE CLASSES
Greektown is an historic neighborhood located just northeast of downtown Detroit. It was first settled by German immigrants in the 1830's as a primarily residential area. In the early 20th century, a majority of the German residents moved to different areas of the city and Greek immigrants moved in, establishing a number of businesses that are still flourishing today. Greektown is now one of Detroit's premier commercial and entertainment districts.
Greektown is one of the best places in Detroit to indulge in a few solid hours of people-watching. People from all walks of life come to Greektown to enjoy the food, shopping, and casino – making this an excellent place for street portrait photography on a nice day.
Learn more about architectural photography as you make images that showcase the unique buildings and urban details in and around Greektown. Push your boundaries as you experiment with different camera angles – get down low and point your camera skywards as you photograph the architecture to give it a heightened sense of power and strength. Investigate the concept of leading lines and how they can influence a viewer's perception of a photograph.
Please bring your fully charged digital camera, an extra charged battery (if you have one,) and any other photographic equipment you would like to use during the class. Please dress for the weather and wear your most comfortable shoes.
Meet in front of the Monroe Market located at 555 E Lafayette St, Detroit, MI 48226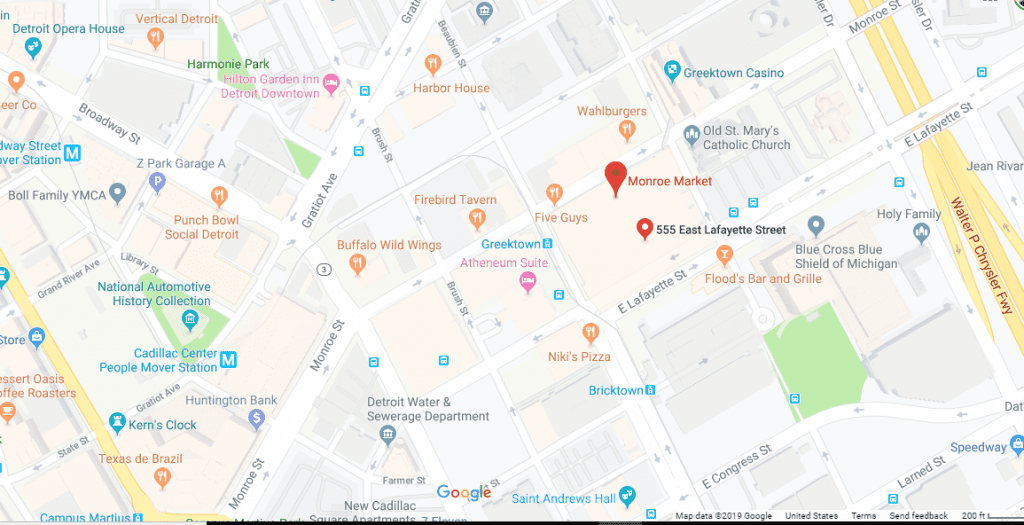 Call Digital Photo Academy at 1 877 372 2231. Lots of people seem to hang up if our welcome recording comes on instead of a live voice, but we promise to return your message within a day or two if you leave one with your name and number.  It would be even better if you included your e mail address as well as the date and city of the class you are considering.  If leaving a voice mail message is not your thing, please email us at DPAbooking@digitalphotoacademy.com or Richard@digitalphotoacademy.com.