Golden Gate Park
[pix_slideshow data_slideshow='conservatory-of-flowers']
ASK ABOUT OUR BACK-TO-BACK SAME DAY WORKSHOP OFFER STARTING WITH A SIT-DOWN SESSION FOLLOWED BY A 3-HOUR DEMONSTRATION PHOTO SHOOT, LED BY A PROFESSIONAL PHOTOGRAPHER 
And in case you're interested, click here to check out some FREE SAMPLES of our ONLINE CLASSES
Whether your photographic pursuits lie in landscape, architecture, environmental portraiture or making artwork out of the everyday, the Conservatory of Flowers provides a wealth of photo ops, beyond the obvious of beautiful floral imagery. Your DPA instructor will be with you adding insight of basic compositional techniques that help turn an ordinary snapshot into a portfolio worthy image. You will discuss the art of shadows, leading lines, patterns within patterns and much more.
We meet at the Conservatory of Flowers entrance in Golden Gate Park. We will do are introductions there and begin the lessons in the extensive gardens around the conservatory. Then we will go across the street to the de Young Museum and go to the tower where we will get a grand view of the park and San Francisco. Next we will play in the sculpture garden of the museum. When we are finished we will have coffee at the de Young museum and maybe even play with the shadows of the chairs.
100 John F. Kennedy Dr, San Francisco, CA 94118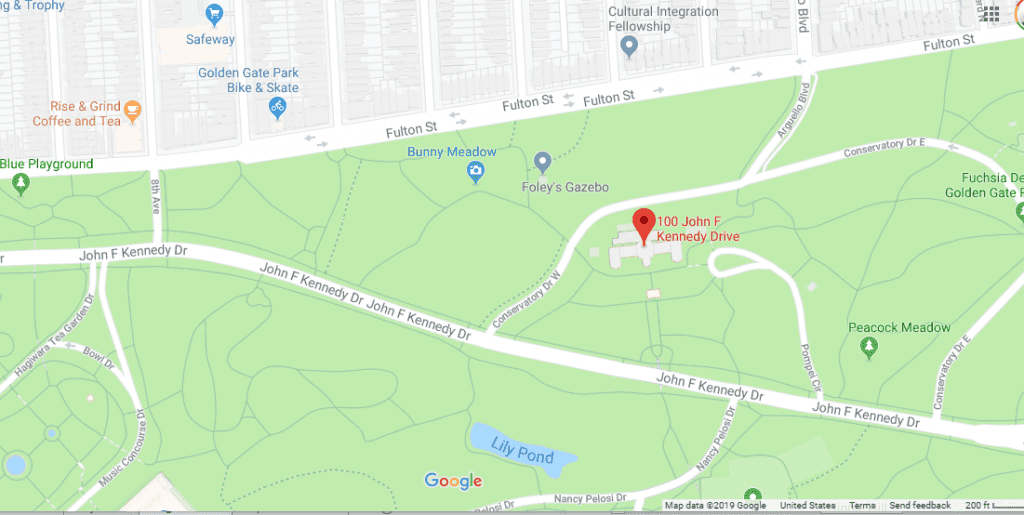 Call Digital Photo Academy at 1 877 372 2231. Lots of people seem to hang up if our welcome recording comes on instead of a live voice, but we promise to return your message within a day or two if you leave one with your name and number.  It would be even better if you included your e mail address as well as the date and city of the class you are considering.  If leaving a voice mail message is not your thing, please email us at DPAbooking@digitalphotoacademy.com or Richard@digitalphotoacademy.com.