Gold Coast
[pix_slideshow data_slideshow='gold-coast']
ASK ABOUT OUR BACK-TO-BACK SAME DAY WORKSHOP OFFER STARTING WITH A SIT-DOWN SESSION FOLLOWED BY A 3-HOUR DEMONSTRATION PHOTO SHOOT, LED BY A PROFESSIONAL PHOTOGRAPHER
And in case you're interested, click here to check out some FREE SAMPLES of our ONLINE CLASSES.
Gold Coast's character and architecture attract visitors from far and wide to gawk at the magnificent mansions and classic brownstones.  After all, Gold Coast is one of the most affluent and beautiful neighborhoods in the country.  Yet it has more to its charm than wealth.  Since its establishment in the late 1880s, Astor Street has been filling the Gold Coast with rich history and intrigue.  Join your Digital Photo Academy instructor to photograph the prestige, wealth, and history of Chicago's Gold Coast.
The Gold Coast is perfect for shooting architecture in a variety of styles, including Romanesque, Tudor, and Art Deco.  Capture the windows and doors that help distinguish one house from another and the brick or stone work that helps define a style.  You will also photograph city and street life as you note the locals and the day visitors strolling along or peeking out of windows.
Shooting alongside a professional photographer, you will learn the secrets of the trade and new ways to create powerful images.  Think about the use of color, light, and angles, learn to manipulate your aperture and shutter speed, and experiment with compositional techniques like leading lines, depth of field, and the rule of thirds.  Use a slow shutter speed to a capture a photograph like the one below of the bicyclist whizzing by, notice the small details of fountains and architecture, and highlight the leading lines of a wrought-iron gate.
We will meet outside of the Charlney Persky House located at 1365 North Astor Place, Chicago, IL 60610.  Please bring your DSLR or another type of digital camera that you use, a fully-charged battery, and the equipment that you can carry.  You should dress for the weather and wear comfortable shoes.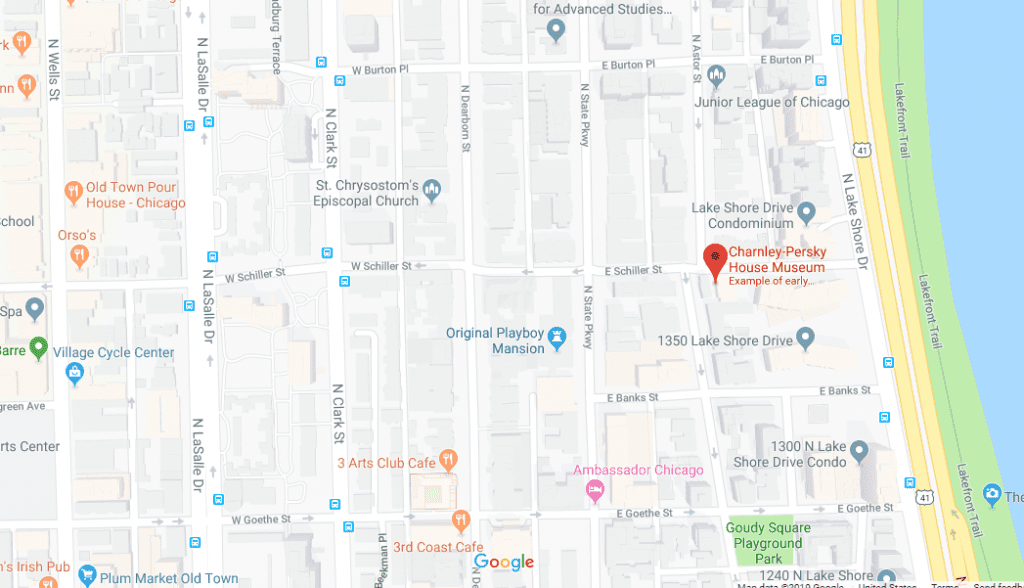 Call Digital Photo Academy at 1 877 372 2231. Lots of people seem to hang up if our welcome recording comes on instead of a live voice, but we promise to return your message within a day or two if you leave one with your name and number.  It would be even better if you included your e mail address as well as the date and city of the class you are considering.  If leaving a voice mail message is not your thing, please email us at DPAbooking@digitalphotoacademy.com.