Eastern State Penitentiary
[smartslider3 slider=37]
ASK ABOUT OUR BACK-TO-BACK SAME DAY WORKSHOP OFFER STARTING WITH A SIT-DOWN SESSION FOLLOWED BY A 3-HOUR DEMONSTRATION PHOTO SHOOT, LED BY A PROFESSIONAL PHOTOGRAPHER 
And in case you're interested, click here to check out some FREE SAMPLES of our ONLINE CLASSES
Walking into the Eastern State Penitentiary is like stepping back in time…almost.  This once state-of-the-art humanitarian prison has been preserved in its decay.  The endless corridors feature walls of peeling paint and light pooling in from various openings and windows.  Join your Digital Photo Academy instructor in the prison for a shoot that's a bit off the beaten path.
The Penitentiary is an excellent place to try out different forms of composition and practice other techniques.  Your instructor will teach you new ways to play with light and shadow bouncing off of the floors, accentuate the colors of the peeling paint, and capture the details of the cracked walls.
Please bring your DSLR or another type of digital camera that you use, a fully-charged battery, and the equipment that you can carry.  You should also wear comfortable shoes.
2027 Fairmount Ave, Philadelphia, PA 19130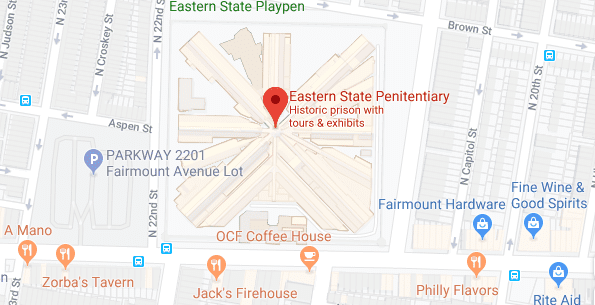 Call Digital Photo Academy at 1 877 372 2231. Lots of people seem to hang up if our welcome recording comes on instead of a live voice, but we promise to return your message within a day or two if you leave one with your name and number.  It would be even better if you included your e mail address as well as the date and city of the class you are considering.  If leaving a voice mail message is not your thing, please email us at DPAbooking@digitalphotoacademy.com or Richard@digitalphotoacademy.com.