[pix_slideshow data_slideshow='east-boston']
Boston Skyline and Belle Isle Marsh Reservation
The East Boston locale provides an ideal vantage point to create photographs within several themes such as landscapes, waterscapes and wildlife of the Belle Isle Marsh Reservation. There are also man-made photo ops in the park such as charming bridges, meandering pathways and a variety of plant life.
Your DPA instructor will teach compositional techniques to enable you to come away with killer photos, rather than all-to-often found standard shots. For example you will learn about concepts such as placing a branch or other object on the edge of the photograph to "Frame" and showcase the Boston skyline creating eye movement in, around, back and forth, of the various elements of the photo. Various perspectives in any image can go from lackluster to dramatic and it can be your choice as what you want to achieve.
Call Digital Photo Academy at 1 877 372 2231. Lots of people seem to hang up if our welcome recording comes on instead of a live voice, but we promise to return your message within a day or two if you leave one with your name and number.  It would be even better if you included your e mail address as well as the date and city of the class you are considering.  If leaving a voice mail message is not your thing, please email us at DPAbooking@digitalphotoacademy.com or Richard@digitalphotoacademy.com.
We will meet in the parking lot of the Bell Isle Marsh located at 
Bennington Street, East Boston, MA 02128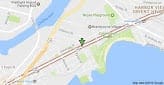 1284 Bennington St
Boston, MA 02128
b/t Leverett Ave & Palermo St
East Boston