Downtown Detroit
[pix_slideshow data_slideshow='downtown-detroit']
ASK ABOUT OUR BACK-TO-BACK SAME DAY WORKSHOP OFFER STARTING WITH A SIT-DOWN SESSION FOLLOWED BY A 3-HOUR DEMONSTRATION PHOTO SHOOT, LED BY A PROFESSIONAL PHOTOGRAPHER 
And in case you're interested, click here to check out some FREE SAMPLES of our ONLINE CLASSES.
Downtown Detroit contains a myriad of photographic opportunities. From the Comerica Park Tiger statue to the Detroit Opera house, there is something for every photographer. This class will cover architectural as well as street portrait photography – and your DPA instructor will be on hand to answer any and all photographic questions you may have.
Fox Theater is a National Historic Landmark and is listed on the National Register of Historic Places. Take a photo of its iconic marquee and take home a piece of Detroit history.
Comerica Park replaced Tiger Stadium in 2000 and now serves as the home of Major League Baseball's Detroit Tigers. The tiger statue outside the stadium is a great subject on which to practice your sculptural photography skills. Think of the different camera angles you can use to photograph the tiger – changing the angle of the camera can have an immense effect on the outcome of your image.
The Detroit Opera house is an ornately decorated structure built in the style of the grand European operas. It was constructed by the same architect that erected the Fox Theater and is the perfect venue for practicing your architectural photo skills and learning new compositional techniques. The facade of the building is minimalist but the interior is lavishly decorated in an Italian Renaissance style.
Please bring your fully charged digital camera, and any other photographic equipment you would like to use. Please dress for the weather and wear your most comfortable shoes.
Meet in front of the Fox Theatre at  2211 Woodward Ave Detroit, MI 48201.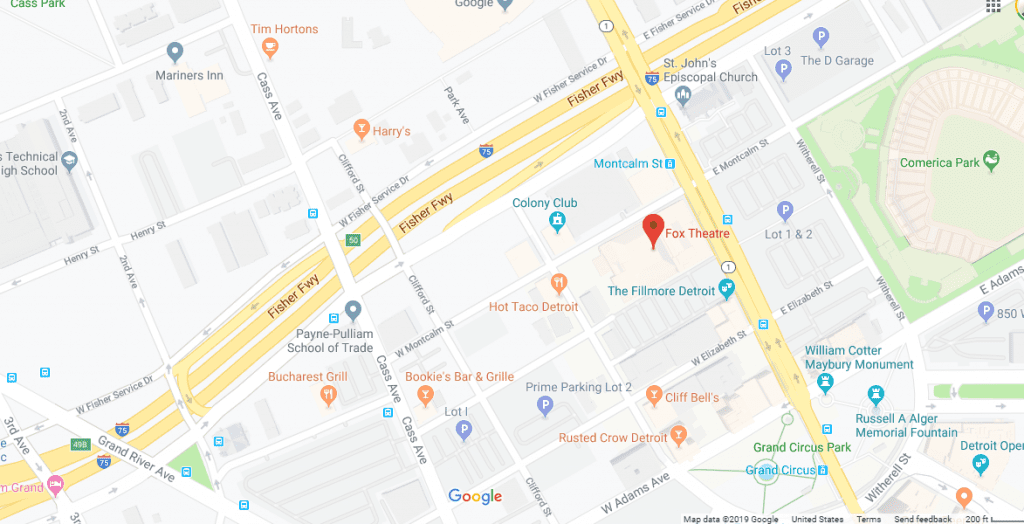 Call Digital Photo Academy at 1 877 372 2231. Lots of people seem to hang up if our welcome recording comes on instead of a live voice, but we promise to return your message within a day or two if you leave one with your name and number.  It would be even better if you included your e mail address as well as the date and city of the class you are considering.  If leaving a voice mail message is not your thing, please email us at DPAbooking@digitalphotoacademy.com.