[pix_slideshow data_slideshow='courts-of-red-bank']
The Courts of Red Bank
The first photo in the slideshow, a storefront, (Jay and Silent Bob's Secret Stash,) is where you will meet your instructor and, after photographing the quirky interior space of this comic book store, your instructor will lead a street and urban architectural photo composition workshop for 3 hours in the quaint vicinity of the store. This might include oddly decorated interiors and exteriors of various businesses, portraits of old-timer barbers at work, pedestrians in front of colorful wall painted murals and other whimsical scenes.
Call Digital Photo Academy at 1 877 372 2231. Lots of people seem to hang up if our welcome recording comes on instead of a live voice, but we promise to return your message within a day or two if you leave one with your name and number.  It would be even better if you included your e mail address as well as the date and city of the class you are considering.  If leaving a voice mail message is not your thing, please email us at DPAbooking@digitalphotoacademy.com or Richard@digitalphotoacademy.com.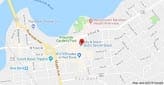 Jay and Silent Bob's
35 Broad St.
Red Bank, NJ   07701
Parking a block away at The Globe Court parking garage on the corner of Globe Court and East Front St.