Copley Square
[smartslider3 slider=183]
ASK ABOUT OUR BACK-TO-BACK SAME DAY WORKSHOP OFFER STARTING WITH A SIT-DOWN SESSION FOLLOWED BY A 3-HOUR DEMONSTRATION PHOTO SHOOT, LED BY A PROFESSIONAL PHOTOGRAPHER
And in case you're interested, click here to check out some FREE SAMPLES of our ONLINE CLASSES.
In picturesque Back Bay, Copley Square offers great photo ops year round. Focus on the detail or broader perspective of the whimsical collection of fanciful orbs along the perimeter or anchor a scenic shot of the interior with a 100+ year old statue of John Singleton Copley. Your instructor will share techniques for capturing the dramatic architecture of the row of landmark buildings, modern and vintage, that you face in every direction. Starting with Trinity Church, known for its Richardson Romanesque style of architecture, named after the 19th century architect, you don't need to place every structure dead center. Develop your signature style with composition strategies such as Rule of Thirds, Leading Lines, Framing and other approaches explained during the shoot.
Public square in Boston's Back Bay neighborhood, bounded by Boylston Street, Clarendon Street, St. James  Avenue, and Dartmouth Street. Meet at Starbucks in Westin Hotel Copley at
10 Huntington Ave Ste D Boston, MA 02116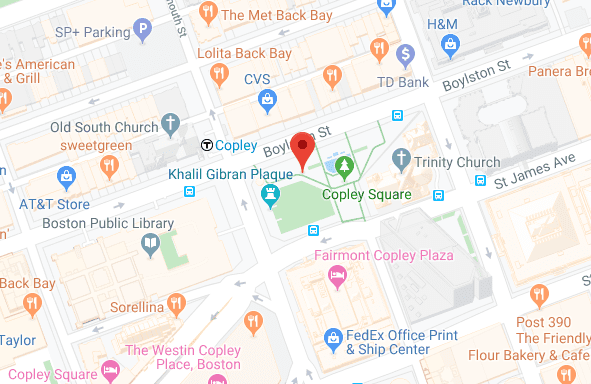 Call Digital Photo Academy at 1 877 372 2231. Lots of people seem to hang up if our welcome recording comes on instead of a live voice, but we promise to return your message within a day or two if you leave one with your name and number.  It would be even better if you included your e mail address as well as the date and city of the class you are considering.  If leaving a voice mail message is not your thing, please email us at DPAbooking@digitalphotoacademy.com or Richard@digitalphotoacademy.com.