Coconut Grove
[pix_slideshow data_slideshow='coconut-grove']
ASK ABOUT OUR BACK-TO-BACK SAME DAY WORKSHOP OFFER STARTING WITH A SIT-DOWN SESSION FOLLOWED BY A 3-HOUR DEMONSTRATION PHOTO SHOOT, LED BY A PROFESSIONAL PHOTOGRAPHER 
And in case you're interested, click here to check out some FREE SAMPLES of our ONLINE CLASSES.
Known as "The Grove" in the 60's through today, Coconut Grove was incorporated with a neighboring community back in 1925, but it really began a century earlier, when the Cape Florida Lighthouse, the first in the state, was built in 1825. About fifty years later, 1873, came the post office, and at the same time Northeasterners and Brits settled in this idyllic village by the Biscayne Bay. Florida's first hotel, The Peacock Inn, was built in 1882 where Peacock Park is located today.
Fifty years ago, The Grove was the center of the Florida Youth Counterculture and hosted the Vietnam protesters, love-ins and live concerts. Developers soon came in but left the charm and small village appeal of Coconut Grove as they added in swank hotels, quaint restaurants with outdoor seating and colorful art installations throughout the community. Surrounding the center of town, there is a meandering neighborhood of quirky homes, old churches, parks and galleries.
With your Digital Photo Academy Instructor, you can hone your skills in environmental portraiture which can vary from well-to-do fashionistas who patronize every kind of trendy shop, to street performers everywhere, hoping to make a name for themselves. A couple of blocks away there are photo ops of boats and marine life on the picturesque Biscayne Bay at which to point a camera. Create a study of colorful patterns with the whimsical statues and way out sculptures or just focus on the minutia and urban details above and below you.
Kenneth M Myers Bayside Park
2900 S Bayshore Dr, Miami, FL 33133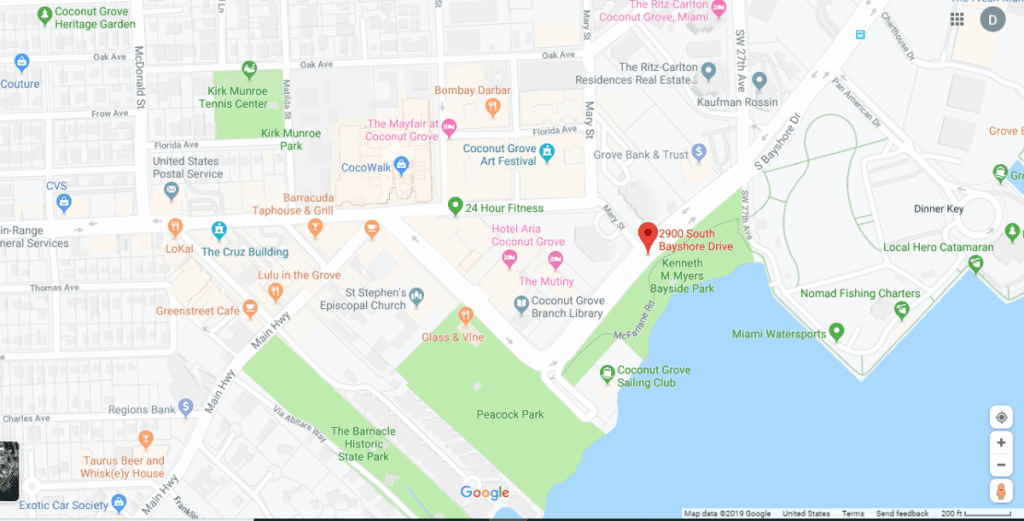 Call Digital Photo Academy at 1 877 372 2231. Lots of people seem to hang up if our welcome recording comes on instead of a live voice, but we promise to return your message within a day or two if you leave one with your name and number.  It would be even better if you included your email address as well as the date and city of the class you are considering.  If leaving a voice mail message is not your thing, please email us at DPAbooking@digitalphotoacademy.com.