Cleveland Museum of Art
[pix_slideshow data_slideshow='cleveland-museum-of-art']
ASK ABOUT OUR BACK-TO-BACK SAME DAY WORKSHOP OFFER STARTING WITH A SIT-DOWN SESSION FOLLOWED BY A 3-HOUR DEMONSTRATION PHOTO SHOOT, LED BY A PROFESSIONAL PHOTOGRAPHER 
And in case you're interested, click here to check out some FREE SAMPLES of our ONLINE CLASSES.
Just over a century ago, the well-to-do families of Cleveland provided $1.25 million to build the Cleveland Museum of Art, an impressive sum for such an endeavor at the time. Today, this venerable institution receives 750,000 visitors annually, and enjoys the 4th largest endowment for any museum in the country. Over the last century the various neoclassical enhancements and renovations have largely maintained the original Beaux-Arts architectural commitment with white Georgian Marble as the main construction material. The collection has grown to include every era, theme and cultural contribution including art which emanates from Egypt, Greece, Italy, Africa, Asia and spans civilizations such as Byzantine, Medieval, Impressionism, Contemporary and Modern. The artwork and building itself offer a memorable experience for anyone but provides particular inspiration for the photographer.
Artwork of every kind rests in dozens of expansive gallery spaces, each beneath rooms of towering ceilings often with huge glass skylights to provide natural rays of the sun streaming down to allow compelling images that bathe the sculptures, paintings, and displays within varying shades of lighting, from bright and sunny to mood-laden and romantic.
Approach a cavernous space of a dizzying collection of paintings, murals, statutes and anchor the scene with a Rule of Thirds composition strategy by focusing on an Ancient Greek Diety or a Medieval Coat of Armor. Try your Aperture Priority controls with a close up of one of the giant sculptures atop a pedestal, showcasing it with significance by blurring the background to guide the eye of those who view your image to the main subject. Any of the rooms can render a dizzying abstract study of space by emphasizing the unending pattern of the parkay floors, brickwork of outdoor patios, each peppered with some sleekly shaped work of art of an entire collection.
Outdoor art work, freckled with lovely fountains also offer a session to work on Shutter Speed Priority variations to create a scene with split second shots of water, frozen in time, or velvety smooth impressionistic depictions of water in motion.
Pose one of your co-participants in a manner that balances the overall contents of a space or even use your long lens to achieve a far away peak into the world of anonymous visitors who tell a story about this spectacular museum that shares an important historical dimension of Cleveland and its old-world charm.
11150 East Blvd, Cleveland, OH 44106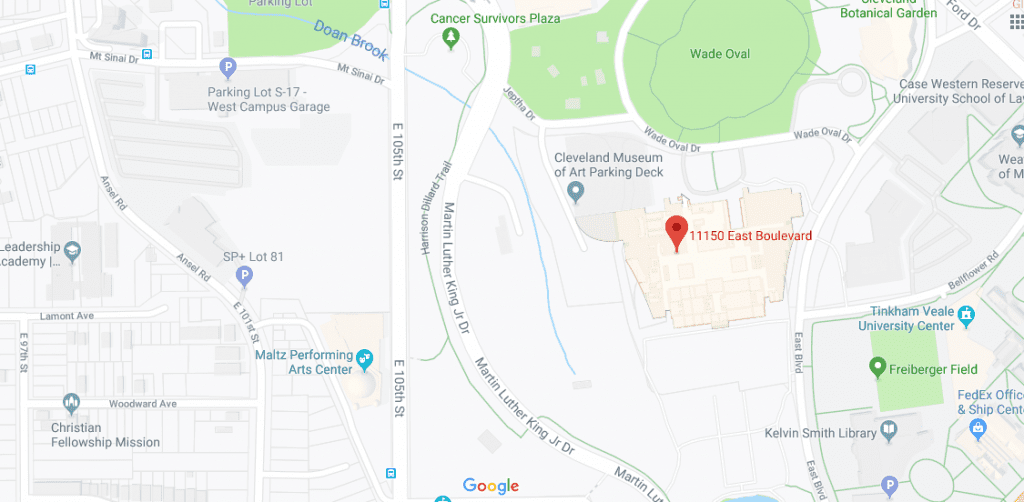 Call Digital Photo Academy at 1 877 372 2231. Lots of people seem to hang up if our welcome recording comes on instead of a live voice, but we promise to return your message within a day or two if you leave one with your name and number.  It would be even better if you included your e mail address as well as the date and city of the class you are considering.  If leaving a voice mail message is not your thing, please email us at DPAbooking@digitalphotoacademy.com or Richard@digitalphotoacademy.com.