Chinatown, San Francisco
[pix_slideshow data_slideshow='chinatown-sf']
ASK ABOUT OUR BACK-TO-BACK SAME DAY WORKSHOP OFFER STARTING WITH A SIT-DOWN SESSION FOLLOWED BY A 3-HOUR DEMONSTRATION PHOTO SHOOT, LED BY A PROFESSIONAL PHOTOGRAPHER 
And in case you're interested, click here to check out some FREE SAMPLES of our ONLINE CLASSES
The charm and vibrance of Chinatown is there for the capture, from colorful murals that are images in and of themselves but also captivating backdrops to make striking portraits. Your instructor will work with you to experiment with depth of field options in this mural/model setting, blurring the background as a swirl of hues for an emphasis on the model.
Catch the chaos of the community with a broad perspective and a simultaneous focus on the noteworthy details to convey the full dymanic. Learn the art of Leading Lines, Rule of Thirds and other theories of composing powerful images, as you focus on colorful lanterns, old world street lamps, architectural details and exotic vendors.
Blend blue sky with ornate roof tops for visually pleasing silhouettes and photographic abstractions. Wherever your lens is pointed, an arresting image is possible.
Neighborhood in San Francisco, California.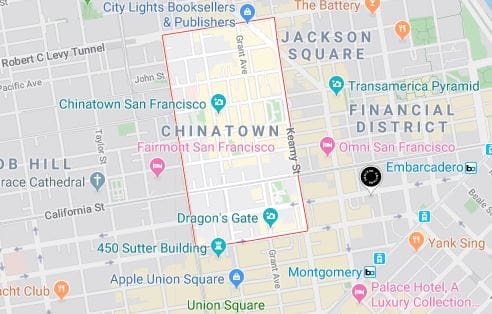 Call Digital Photo Academy at 1 877 372 2231. Lots of people seem to hang up if our welcome recording comes on instead of a live voice, but we promise to return your message within a day or two if you leave one with your name and number.  It would be even better if you included your e mail address as well as the date and city of the class you are considering.  If leaving a voice mail message is not your thing, please email us at DPAbooking@digitalphotoacademy.com or Richard@digitalphotoacademy.com.