[pix_slideshow data_slideshow='central-florida-zoo']
Central Florida Zoo
Visit the Central Florida Zoo and Botanical Gardens and leave with an impressive array of exotic animal and botanical photos, taken with photo instruction by outdoor photographer John Cullum. Over 400 animals, including giraffe, rhinos, exotic birds, Florida black bears, large cats, porcupine, and the ever-entertaining otters will provide opportunities for your newly learned animal-photography tips. You will learn how to look for conditions and set your camera to make cage wiring disappear, when wires distract from your subject. Proper depth of field and exposure information for animal photography will be covered and practiced. If you are a flower and butterfly photographer, you will enjoy the butterfly garden and the exotic plant species. The largest herpetarium in the southeast displaying both venomous and non-venomous species is also located at the Sanford Zoo.
Zoo admission is currently $19.50 ($15.95 60+). AAA members, first responders, and active or retired military receive a 20% admission discount.
Call Digital Photo Academy at 1 877 372 2231. Lots of people seem to hang up if our welcome recording comes on instead of a live voice, but we promise to return your message within a day or two if you leave one with your name and number.  It would be even better if you included your e mail address as well as the date and city of the class you are considering.  If leaving a voice mail message is not your thing, please email us at DPAbooking@digitalphotoacademy.com or Richard@digitalphotoacademy.com.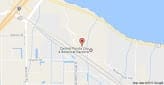 3755 US-17
Sanford, FL 32771