[pix_slideshow data_slideshow='cathedral-of-saints-peter-and-paul']
Cathedral of Saints Peter and Paul
The Cathedral of Saints Peter and Paul is a Roman Catholic cathedral and the mother church of the Diocese of Providence.
The Romanesque church was designed in 1873 by Patrick Keely and is constructed of Connecticut Brownstone making it one of the more prominent pieces of architecture in the city of Providence.
The interior boasts a Gothic revival style: bronze and green marble throughout the tabernacle, altar and columns, along with stained glass windows fashioned from antique Munich glass.
Your instructor will share lessons on using the exterior of this extraordinary building to create a dramatic silhouette against the sky, playing the waiting game to illuminate the structure exactly when the sun shows itself through the clouds. Rain or shine, the wrong outdoor lighting can yield a dull and forgettable image. However, if one is patient, inevitably there will be a moment in the sun and array of cloud types to accessorize the main subject of the cathedral. You will also learn about the art of the detail whether photographing indoors or outdoors. As for the interior of St Peter and Paul Cathedral, you will learn about making photographs whether soft glow of candles, light streaming through a stain glassed window or chandeliers or man made structures. It is easier than you think to capture the golden hue of the church pews and other wooden details of this civil war era gem.
Call Digital Photo Academy at 1 877 372 2231. Lots of people seem to hang up if our welcome recording comes on instead of a live voice, but we promise to return your message within a day or two if you leave one with your name and number.  It would be even better if you included your e mail address as well as the date and city of the class you are considering.  If leaving a voice mail message is not your thing, please email us at DPAbooking@digitalphotoacademy.com or Richard@digitalphotoacademy.com.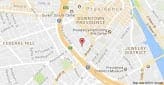 30 Fenner St
Providence, RI 02903