Cathedral Basilica of the Sacred Heart
[pix_slideshow data_slideshow='cathedral-basilica-of-the-sacred-heart']
ASK ABOUT OUR BACK-TO-BACK SAME DAY WORKSHOP OFFER STARTING WITH A SIT-DOWN SESSION FOLLOWED BY A 3-HOUR DEMONSTRATION PHOTO SHOOT, LED BY A PROFESSIONAL PHOTOGRAPHER 
And in case you're interested, click here to check out some FREE SAMPLES of our ONLINE CLASSES.
The Cathedral Basilica of the Sacred Heart in Newark, NJ is spectacular inside and out. The majestic structure is an excellent subject to hone ones composition style for architecture from the exterior, approaching from a distance with silhouettes against the sky with and without clouds. Close up with a bug's eye view create a gothic impression for a portfolio worthy result. Your DPA instructor will show you ways to create powerful scenes inside whether capturing a profile of an individual against the golden light coming in from a stained glass window, or the golden hue of the wooden pews and other design flourishes.
Your instructor will demonstrate various composition strategies such as leading lines to direct the eye of the viewer, or framing the scene with a detail in the foreground of the frame to anchor your viewer and lead him/her on to ponder the entire scene and move all throughout the frame.
89 Ridge St, Newark, NJ 07104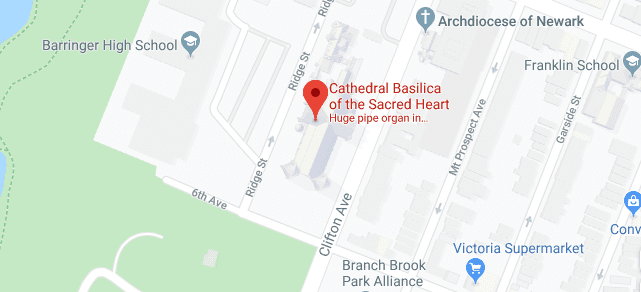 Call Digital Photo Academy at 1 877 372 2231. Lots of people seem to hang up if our welcome recording comes on instead of a live voice, but we promise to return your message within a day or two if you leave one with your name and number.  It would be even better if you included your e mail address as well as the date and city of the class you are considering.  If leaving a voice mail message is not your thing, please email us at DPAbooking@digitalphotoacademy.com or Richard@digitalphotoacademy.com.