Bridges of the City of the Big Shoulders
[pix_slideshow data_slideshow='bridges-of-the-city-of-the-big-shoulders']
ASK ABOUT OUR BACK-TO-BACK SAME DAY WORKSHOP OFFER STARTING WITH A SIT-DOWN SESSION FOLLOWED BY A 3-HOUR DEMONSTRATION PHOTO SHOOT, LED BY A PROFESSIONAL PHOTOGRAPHER 
And in case you're interested, click here to check out some FREE SAMPLES of our ONLINE CLASSES.
Your workshop falls on the iconic 4th of July holiday, so your lesson will include tips and techniques accordingly. Since tonight you might be attending a July 4th fireworks display shortly after your workshop, your instructor will be giving tips on capturing fireworks displays in a compelling manner, whether long exposure, shutter speed priority and other techniques!
Digital Photo Academy's Composition in the Field Class
The Great poet, Carl Sandberg, referred to Chicago, in his epic poem, as "City of the Big Shoulders." The photographic drama of the Chicago River, from the water, and its amazing bridges, exemplifies that notion.
We'll meet at the open air "pagoda" at Ping Tom Park. If you're delayed, please call or text your instructor.
Ping Tom Park is located about three blocks northwest of the heart of Chicago's Chinatown. Please consult this Google Maps link for the exact location. It's a small, neighborhood park and the pagoda, where we'll be meeting, is just a few steps inside the entrance. Please arrive early if you like and photograph the magnificent Canal Street railroad bridge just across the river from the pagoda. If you're driving, you'll likely want to use a public parking lot, since the on street (metered) parking is scarce and has a three hour limit. The area is easily reached by public transportation. It might be best to park at the public lot on Wentworth Ave., just North of Archer Ave – a 5 minute walk from Ping Tom Park.
The focus of DPA's Composition in the Field class is to analyze the visual things of our surroundings and how to look for and then capture powerful, compelling images with your camera. In the initial part of the class, at the pagoda, the instructor will present some information (with visual examples), about the elements of successful composition, and review some helpful camera settings. Then, we'll take a few minutes to photograph the park environs and that great Canal Street railroad bridge, with the "house" atop it. After just a bit, together we'll board a Chicago Water Taxi, steps from the pagoda, and journey up the Chicago River, photographing the series of magnificent bridges, Chicago's renowned architecture, and river life scenes along the way.
When you board the water taxi, have $10 (cash) in hand to buy an "all day pass" from the conductor on the boat. Don't lose your ticket as you'll need it along the way. We'll change boats at the Ogilvie Station stop, disembark for a time at the "Mag Mile" (Michigan Avenue bridge) to photograph from the bridge deck and finally head back downriver to Ping Tom Park, where the class will end. However, you may want to budget time after the class to wander back into Chinatown to photograph that magical place and/or to grab some shooting time on your own.
Throughout the class, I'll be with you, looking over your shoulder at images you've captured, demonstrating some techniques, offering positive suggestions and tips and answering all your questions. There will be plenty of time for this interaction. Please dress appropriately, according to the weather. Showers are always possible, so you may want to bring an umbrella, poncho and something to keep your camera dry if we encounter a sprinkle (a gallon sized "baggie" works) and sunscreen protection, since we may be exposed to a great deal of sun outdoors. The waters of the river are usually gentle. Be sure to wear some non-slip shoes.
I suggest you bring a fully-charged camera battery, along with an additional fully-charged spare, and two formatted memory cards in case you fill up the first card in your camera or the card in your camera should fail. It happens! I recommend you bring a minimum of photo gear, as we'll be moving around. However, feel free to bring a spare lens or whatever else you might like to have with you.
I've attached a Pdf that will help you understand some of the terms we will be covering during the class. Additionally, here two links that will also help you with framing:
http://www.absphoto.com/composition.pdf
http://www.cambridgeincolour.com/tutorials/rule-of-thirds.htm
1700 S Wentworth Ave Chicago, IL 60616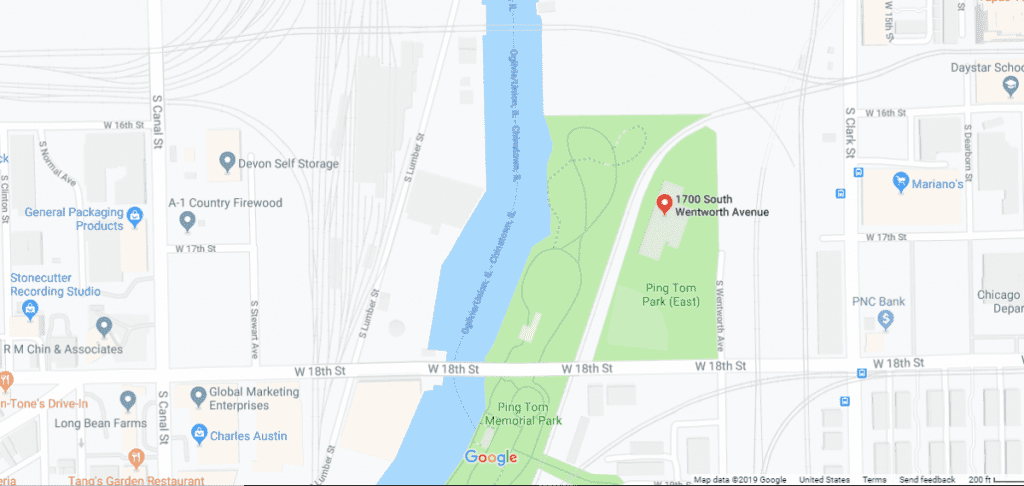 Call Digital Photo Academy at 1 877 372 2231. Lots of people seem to hang up if our welcome recording comes on instead of a live voice, but we promise to return your message within a day or two if you leave one with your name and number.  It would be even better if you included your e mail address as well as the date and city of the class you are considering.  If leaving a voice mail message is not your thing, please email us at DPAbooking@digitalphotoacademy.com.